The spotlight is on Kylian Mbappe as France chase World Cup glory
Mbappe is leading France's World Cup charge with three goals
Last Updated: 06/07/18 6:24pm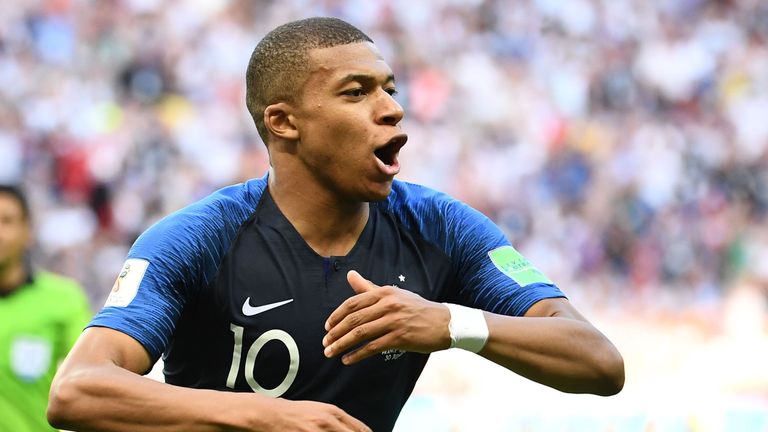 The spotlight is on Kylian Mbappe - but this World Cup has already confirmed the France ace as football's new superstar...
Monumental. That was the headline daubed across the front page of L'Equipe the morning after France's 4-3 win over Argentina. It referred not just to the game itself, which will go down as a World Cup classic, but to the scintillating performance of Kylian Mbappe, whose smiling face summed up his country's jubilation.
At the Kazan Arena, Mbappe became the first teenager to score twice in a World Cup game since Pele in Brazil's 1958 final victory over Sweden. In addition to his goals, both clinically taken, the first with his left foot, the second with his right, there was the breathtaking run which earned his side their early penalty. Mbappe was irrepressible. Argentina could not cope.
It was the best and most significant performance of Mbappe's burgeoning career, and it was impossible to ignore the symbolism of who it came against. While the 19-year-old celebrated, Lionel Messi, 12 years his senior, was left to contemplate what is likely to prove a decisive blow to his hopes of winning a World Cup.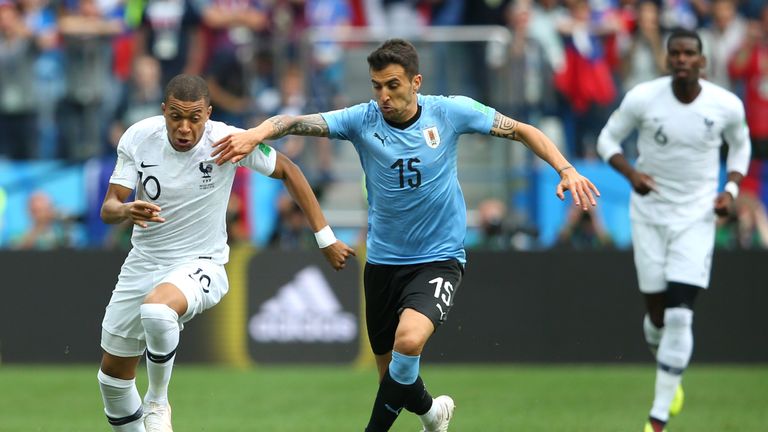 Messi was on his way home, and a few hours later, Cristiano Ronaldo was too. Portugal, European champions two years ago, had been defeated by Uruguay despite the best efforts of their own talisman. Mbappe faced Portugal's conquerors on Friday and emphasised his status as world football's new superstar.
Of course, Messi and Ronaldo are far from finished and Mbappe has a monumental task ahead of him if he is to match the achievements of their extraordinary careers, but at just 19 years old and still six months shy of his 20th birthday, he certainly seems to be on the right path.
Mbappe has been regarded as the future of French football since his starring performances during their triumphant European U19 Championship in 2016, and since then there have been back-to-back Ligue 1 titles with Monaco and Paris Saint-Germain. He has lit up the Champions League stage and now he is doing the same at the World Cup.
Mbappe v Messi and Ronaldo at the same age
| Player | Apps | Goals |
| --- | --- | --- |
| Kylian Mbappe | 124 | 55 |
| Lionel Messi | 55 | 14 |
| Cristiano Ronaldo | 58 | 13 |
In total, Mbappe has scored 55 goals in 124 senior games for club and country. At the same age, Messi had scored 14 goals in 55 games. Ronaldo had netted 13 in 58. The numbers show just how far Mbappe has already come. They also hint at the endless possibilities in front of him.
Mbappe's overshadowing of Messi in Kazan was described as changing of the guard in international football and recent speculation suggests the same might soon apply at club level. The teenager plays a supporting role to Neymar at Paris Saint-Germain currently, but it is surely only a matter of time until he feels compelled to step out on his own.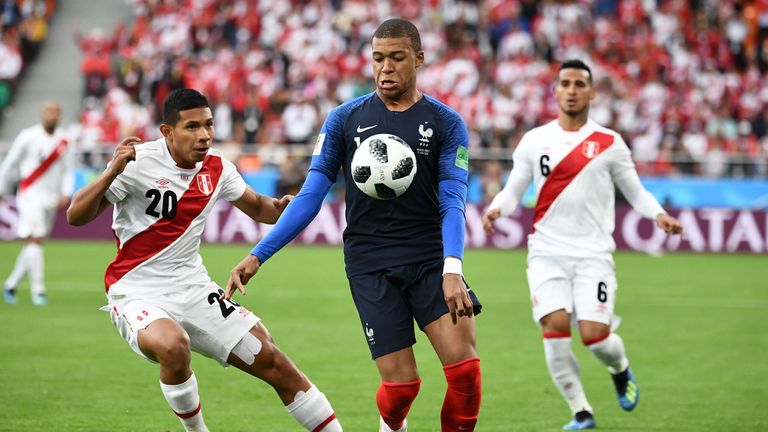 Real Madrid issued a statement denying reports that they had agreed a £240m fee with Paris Saint-Germain for Mbappe on Wednesday, but their long-standing interest in him is no secret and there will be a vacancy for a new superstar at the Bernabeu if Cristiano Ronaldo's £88m move to Juventus turns out to be genuine.
That story looks set to run through the summer, but first there is the question of just how much further Mbappe can take France in Russia. Their subdued performances in the group stages did not inspire much confidence, with Didier Deschamps criticised for failing to get more from the talent at his disposal, but Mbappe certainly chose the right moment to spark to life. Now they are in the final four, anything is possible.
For Mbappe, who was only a few months old when they last lifted the trophy, the future could hardly be brighter.