Paul Pogba hopes to add a star to his France shirt by winning the World Cup, two decades after their only triumph in 1998.
France beat Croatia in the semi-final en route to becoming champions 20 years ago, but Pogba is conscious he and his team-mates are yet to earn their own status as world beaters.
Asked if he will be wary of revenge when the teams meet in the final of this year's tournament in Moscow on Sunday, Pogba said: "Croatia do not have stars - they want one. They have done very well and they want the victory, like us.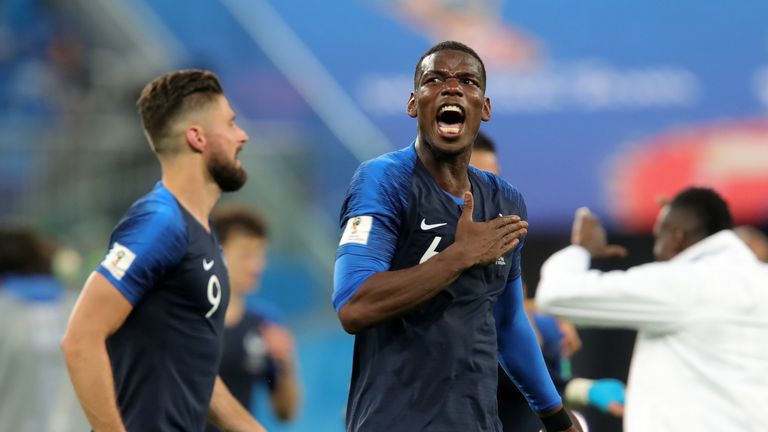 "But I do not have a star. It's on the shirt, but I did not win it. We want to go looking for it like all players. It will be a World Cup final, a great match, difficult."
Croatia having endured gruelling periods of extra time in each of their knockout matches, but Pogba does not subscribe to the theory that fatigue will make France's opposition underdogs.
"We are not thinking about it," he said. "Croatia played a very tough match against England. They did not give up. They were losing 1-0 and came back.
"There are two teams and one cup. They have played 90 minutes more than us - I don't know if it's a disadvantage for them or if they're going to want to show that they want to win even more.
"For me, we are not favourites. We did not forget the doubts about us at the beginning of the competition, about our ability to play together.
"We haven't done anything yet."
Modric: English media underestimated us
Luka Modric inspired Croatia to their 2-1 extra-time victory over England in the semi-finals, but Pogba insists it would be a mistake to consider him the only threat.
Asked if they had a plan for the Real Madrid schemer, he replied: "It's not only Modric - there is also (Ivan) Rakitic, (Ivan) Perisic and even the defenders.
"I don't think there will be a plan for Modric. There will be one for everyone."