Brazil manager Tite praises Richarlison impact after his goal against Cameroon
Everton striker scored the winner for Brazil in Tuesday night's friendly win at Stadium MK
Last Updated: 21/11/18 8:09am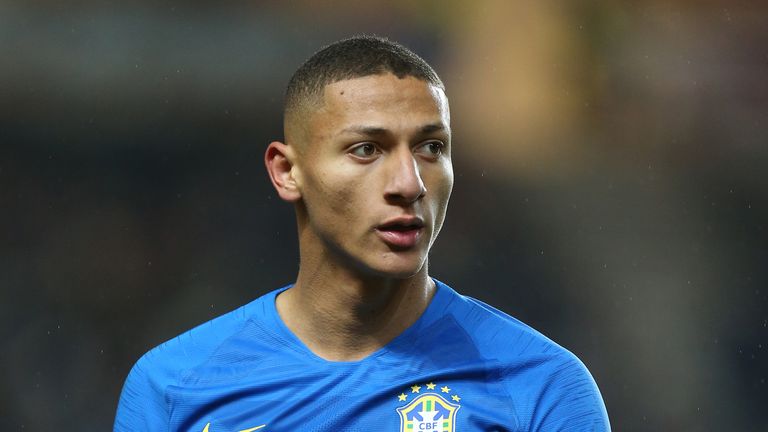 Brazil boss Tite lauded the impact of Richarlison after the Everton forward struck in the 1-0 friendly win over Cameroon in Milton Keynes.
Star man Neymar went off with a groin problem in the early stages of the game, after which Tite would not discuss the Paris Saint-Germain playmaker's injury.
Brazil said Neymar would be assessed by PSG, who play Liverpool in the Champions League on November 28.
Richarlison came on in his place, heading in on the stroke of half-time for his third goal on his sixth appearance for the Selecao.
Tite said: "I was not surprised by Richarlison's performance. What I saw today was the continuation of him always coming on and playing well for Brazil.
"In his first game, he really impressed with his incision and his finishing, both his head and on the floor.
"I've also seen him play on the wing for Brazil and play really well and because of his qualities in training, we can also imagine him playing as a second striker as well. He's someone who's really impressed me since coming into the team."
Neymar barely featured, seeking treatment on the touchline after five minutes and collapsing for further treatment a minute later after firing high and wide.
There was little sympathy from a 29,669 crowd - a record footballing attendance at Stadium MK - as the £200m play-maker was booed off.