Football Commentator & Columnist
Martin Tyler's stats: Chelsea v Manchester United stats special
Last Updated: 17/10/18 8:38am
How does Jose fare against his old clubs? Does Chelsea's start give them a better chance of the title? Martin has the answers...
With the Premier League returning on Saturday, Chelsea host Manchester United in the lunchtime kick-off, live on Sky Sports Premier League from 11.30am.
With that in mind, this week's stat pack from Martin Tyler has a Chelsea-United feel to it - including the Blues' title chances, Jose's history against his old clubs, and just how bad United's start to the season has been.
But as well as that, don't forget to try Martin's tricky teaser in the video above and read his stats from England's famous win over Spain.
Got a question for Martin? Tweet @SkySportsPL with the hashtag #TylersTeasers and the voice of football could be answering your question next week!
Tyler's starting stats from Spain 2-3 England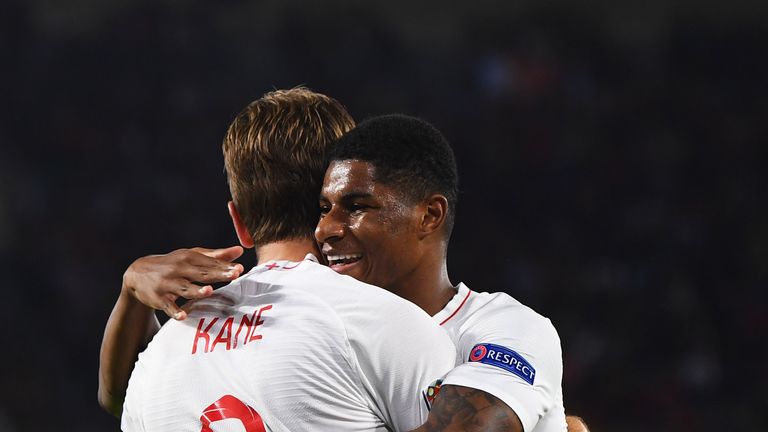 Spain have now lost 14 times to England, more than any other nation. Prior to Monday night, they had conceded 44 goals to Portugal, 43 to Italy and 42 to England - so England are now the nation with the most goals against Spain too.
England had failed to score away to Spain since 1987 (four visits since Gary Lineker scored four in a 4-2 win).
I called them the Boys of Bilbao and it is thought that this was the youngest England team since a team with an average age of 22 years 245 days drew 1-1 draw with Wales on October 17 1959 (Eddie Hopkinson, Don Howe, Tony Allen, Ronnie Clayton, Trevor Smith, Ron Flowers, John Connelly, Jimmy Greaves, Brian Clough, Bobby Charlton, Eddie Holliday). That team was particularly young as England had lost several players in the Munich Air Crash the previous year.
Spain were playing at Estadio Benito Villamarin for the first time since 1995, their 15th international there and only their second defeat, winning the other 13. It was Spain's first home defeat in competitive internationals for 15 years and their first defeat in any game in regulation time since the Euro 2016 quarter-final loss to Italy, though they were beaten on penalties by Russia at the World Cup. They have scored in all 28 games they have played since that 2-0 defeat to Italy in 2016.
Marcus Rashford and Raheem Sterling scored their first international away goal. Sterling had gone 27 internationals without scoring before Monday, while Rashford has now scored home and away past club-mate David de Gea in international football. That leads us to our stats on Manchester United…
Differing starts
How does Jose Mourinho's start at Manchester United compare to the same period at Chelsea? Kate
MARTIN SAYS: Mourinho has been in charge for 84 Premier League games at United and his record is noticeably worse than his start to Premier League management at Chelsea from 2004.
Compared to his first 84 games in charge at Chelsea, he has picked up 17 fewer wins, lost eight more games and conceded 30 more goals. He also collected 42 more points during his first two-and-a-bit seasons compared to his time at Old Trafford.
Mourinho's PL starts compared
| | | |
| --- | --- | --- |
| | Manchester United | Chelsea |
| Games | 84 | 84 |
| Wins | 47 | 64 |
| Draws | 22 | 13 |
| Losses | 15 | 7 |
| Scored | 135 | 157 |
| Conceded | 71 | 41 |
| Points | 163 | 205 |
| Players used | 37 | 44 |
Interestingly, Mourinho used 44 players at Chelsea in that time, but since moving to United has used only 37 in the Premier League. Utilising his squad did him no harm at Stamford Bridge, as he won the Premier League twice in a row in that time.
After eight?
Does staying unbeaten after eight games mean you are statistically likely to win the Premier League? Rob
MARTIN SAYS: In Premier League history, only 10 of the 36 teams who have gone unbeaten in their first eight Premier League games have gone on to lift the title.
Those teams were Man City (2018, 2012), Chelsea (2015, 2006, 2005), Man Utd (2011, 2000, 1997) and Arsenal (2004, 1998)
Now in some seasons it is inevitable a team couldn't win the title, like in 2011/12 when Manchester City, Manchester United and Newcastle had all avoided defeat - and they cannot all win the league - and it is the same this season with Chelsea, Liverpool and Man City still unbeaten.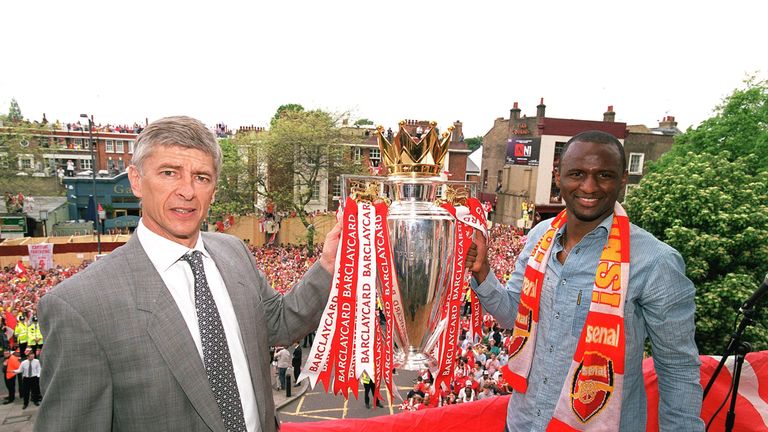 However, the majority of Premier League winners (16 of the 26 champions) had lost at least one game by this point, so Chelsea, Liverpool and City fans should not get ahead of themselves just yet.
Interestingly, the first team to go unbeaten for the first eight matches of the campaign were Ipswich in the inaugural Premier League campaign, however, the Tractor Boys ended up down in 16th.
Of the other 25 sides to remain unbeaten in their first eight matches we saw nine finish second, four finish third, two finish fourth, three finish fifth, three finish sixth, one finish ninth, two finish 11th and one finish 13th.
Like Ipswich, Leicester City (2001) and Aston Villa (2007) finished outside the top half after going unbeaten in their first eight games.
Top scorers
How many times have Chelsea outscored United over a Premier League season? Emma
MARTIN SAYS: So far this season, Chelsea have five goals more than United after netting 18 times in eight games. And that follows a recent trend between the two clubs.
Before Sir Alex Ferguson's retirement in 2013, Chelsea had only outscored United three times in 21 Premier League seasons, but since then they've done it four out of the last five seasons. United actually scored six more than them last season.
So to answer your question, Chelsea have outscored United in seven of the 26 completed Premier League seasons.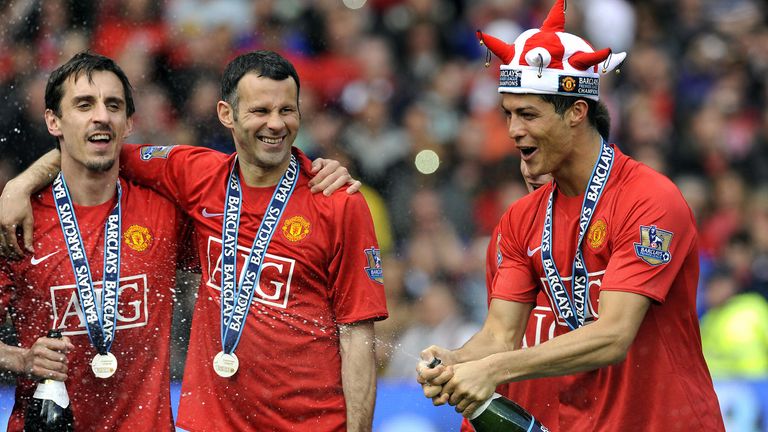 The most amount of goals either has scored is the 103 Carlo Ancelotti's Double-winners managed in the 2009/10 season - a total only beaten by City (106) last season. Their lowest tally was 46 goals in 1995/96, while United's lowest is 49 under Louis van Gaal in 2015/16. Their highest was 97 in 1999/2000.
United's woes
Is this Manchester United's worst start to a Premier League season? Matt
MARTIN SAYS: This isn't United's worst Premier League start, no, but it won't offer much encouragement to know that it's David Moyes and Louis van Gaal who have been in charge when they've had worse.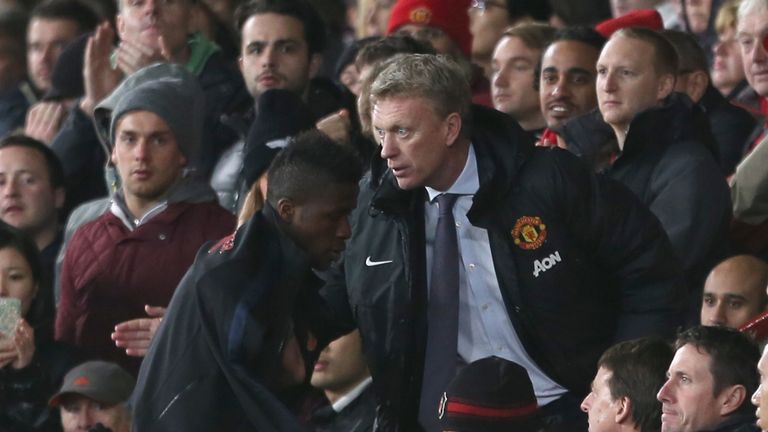 They are currently eighth with just 13 points, but in 2013/14, having won only three of their first eight games, they were sitting on 11 points at this stage, also in eighth.
That is the only other Premier League season where they were as low as eighth after eight games. They finished seventh that season.
Under Van Gaal the following season, they had a 12-point tally after eight games - one point fewer than this season. They were sixth at this stage, but recovered to reach the Champions League after finishing fourth.
Just as a way of comparison, United have picked up 20 points after eight matches on three previous occasions - in 1999/00, 2011/12 and under Mourinho last season, although only in the first of those did they go on to win the title.
Despite 13 Premier League triumphs, they have only been top of the table after eight games on four occasions (1993/94, 1999/00, 2006/07 and 2009/10).
Jose's history
What is Jose Mourinho's record like against his old clubs? Gill
MARTIN SAYS: Mourinho's early results against his former clubs were quite extraordinary. He went 13 games unbeaten against old sides while in charge of Leiria and then Porto, including in two cup finals, and six matches against Benfica, who he had led for just 11 games in 2000.
However, since then, things have not been so good. Mourinho has lost five and won five of his last 10 games against his old clubs, including four losses out of six against Chelsea since he took over at United.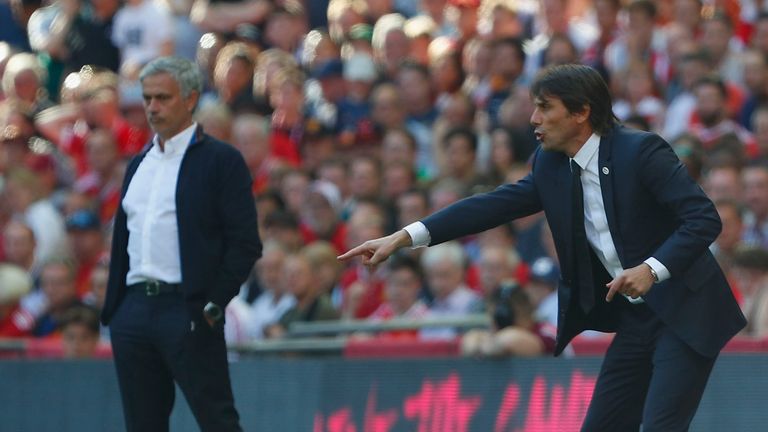 The worst of those came in 2016 against Antonio Conte's Chelsea, who thrashed United 4-0 at Stamford Bridge en route to the Premier League title.
United were 2-1 winners over the Blues at Old Trafford last season, but they lost 1-0 away from home in the Premier League, and by the same scoreline in the FA Cup final.
Jose Mourinho against former clubs (league games unless stated)
As Leiria manager
As Porto manager
Beat Benfica 3-2
Drew 1-1 with Leiria
Beat Benfica 2-1
Drew 2-2 with Leiria
Beat Benfica 1-0
Beat Leiria 2-0
Beat Leiria 1-0 (Portuguese Cup)
Beat Leiria 1-0 (Portuguese Super Cup)
Beat Leiria 3-1
Beat Benfica 2-0
Beat Leiria 2-1
Drew with Benfica 1-1
Lost to Benfica 2-1 (Portuguese Cup)
As Chelsea manager
Beat Porto 3-1 (Champions League)
Lost to Porto 2-1 (Champions League)
Drew 1-1 with Porto (Champions League)
Beat Porto 2-1 (Champions League)
Lost 2-1 to Porto (Champions League)
Beat Porto 2-0 (Champions League)
As Inter manager
Beat Chelsea 2-1 (Champions League)
Beat Chelsea 1-0 (Champions League)
As Man Utd manager
Lost 4-0 to Chelsea
Lost 1-0 to Chelsea (FA Cup)
Beat Chelsea 2-0
Lost 2-1 to Real Madrid (Super Cup)
Beat Benfica 1-0 (Champions League)
Beat Benfica 2-0 (Champions League)
Lost 1-0 to Chelsea
Beat Chelsea 2-1
Lost 1-0 to Chelsea (FA Cup)