Manchester United 1-0 Everton: Louis van Gaal admits win was fortunate
By Pete Hall
Last Updated: 04/04/16 3:40pm
Louis van Gaal admitted Manchester United did not deserve their 1-0 victory over Everton at Old Trafford, labelling the success "stolen."
Anthony Martial scored the only goal of the game - United's 1,000th home goal in Premier League history - after getting on the end of a fine, flowing move.
However, on an afternoon where club legend Sir Bobby Charlton was honoured by having the south stand named after him, Van Gaal insisted that he feels his side were fortunate to escape with a vital three points in their quest for a top four finish.
"I think it was more or less a stolen victory," Van Gaal told Sky Sports. "We didn't play so well. It looked like we were not fresh enough, despite the extra days to prepare. You do not know how the players are going to come back after the international break.
"We scored a very good goal I have to say, and I am very happy with the victory, but they [Everton] could have scored two goals so today we were the lucky team.
"They played a little bit different than we expected, and we had to change in the second half, and we got better.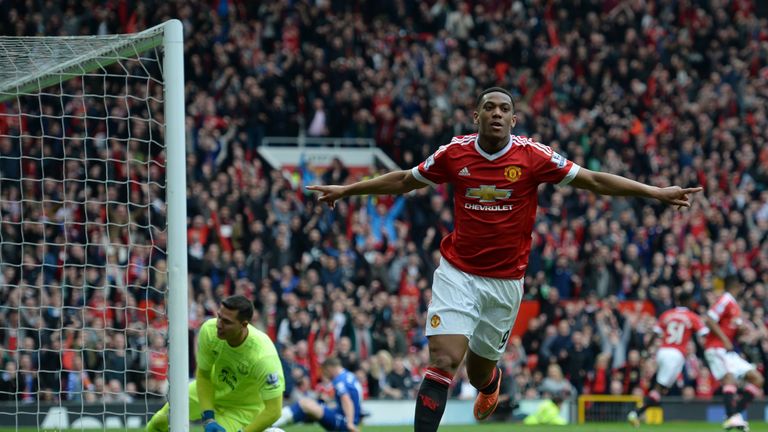 "Still, we have played much better against other teams. The win is the most important thing.
"We also want to give entertainment for the fans, and today they were entertained because of the tension.
"If we lost today, the victory against [Manchester] City is worthless. Now we are still in the race, and have four home matches left.
Van Gaal did also acknowledge a sense of relief in getting a victory to send Charlton home a happy man.
"I said before the game that we have to give Sir Bobby a victory," Van Gaal added. "If we lose today, then he would not have had a fantastic day anymore. He was very pleased in the dressing room.