Is Jose Mourinho suffering from third-season syndrome at Chelsea?
Last Updated: 19/08/15 7:25am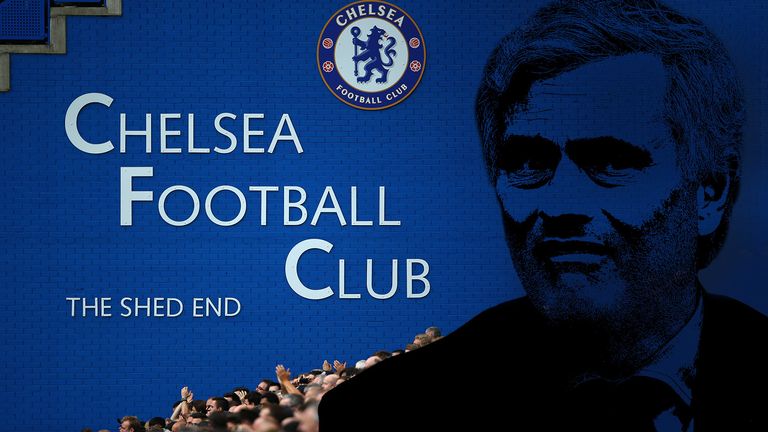 Chelsea's turbulent start to the season hints at a familiar third-season pattern for Jose Mourinho, writes Nick Wright...
Jose Mourinho claimed Sunday's 3-0 defeat to Manchester City was a "fake" result, but the reality is inescapable: Chelsea were a shadow of last season's title-winning side at the Etihad Stadium, the defeat leaves them five points behind their closest rivals just two weeks into the season, and issues are piling up on and off the field.
Mourinho has never been one to bite his tongue, but even by his standards the last few weeks have been explosive. The Eva Carneiro furore has left a bitter taste, and the Chelsea manager has already rowed with Arsene Wenger, Roberto Martinez and a room full of journalists. Even Rafael Benitez's wife has felt his wrath.
Mourinho courted controversy again on a calamitous afternoon at the Etihad when, after 176 games without substituting John Terry, the Chelsea manager hooked his captain at half-time. Mourinho described it as a "tactical" decision, but it was a bold move which has only added to a growing sense of unease surrounding the club.
It is too early to make definitive judgements about where Mourinho's third season at Chelsea is heading, and he has plenty of time to rectify the situation, but a look back at the rest of his career presents an ominous trend which provides plenty of food for thought.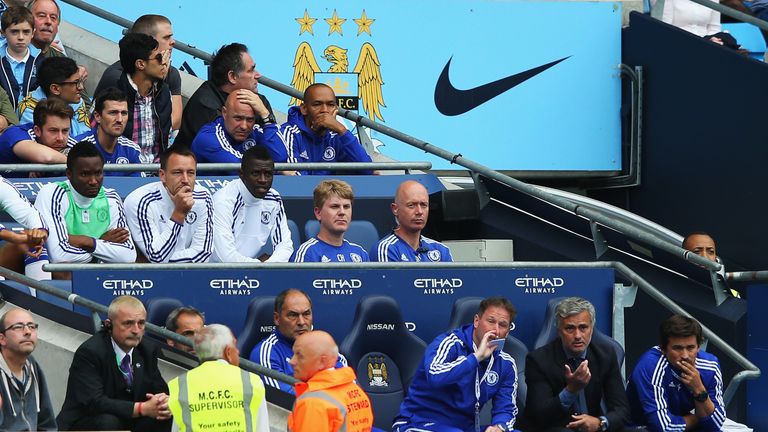 Mourinho only spent two full campaigns at Porto and Inter Milan, but in his first spell at Chelsea and at Real Madrid his third seasons were deeply problematic and ultimately resulted in him moving on.
After the unprecedented success of back-to-back Premier League Chelsea titles following his appointment at Stamford Bridge in 2004, the cracks began to appear during the 2006/07 campaign. There were FA Cup and League Cup successes, but the drop in performances in the Premier League was clear as their win percentage fell from 76.3 per cent to 63.2 per cent and they surrendered their title to Manchester United.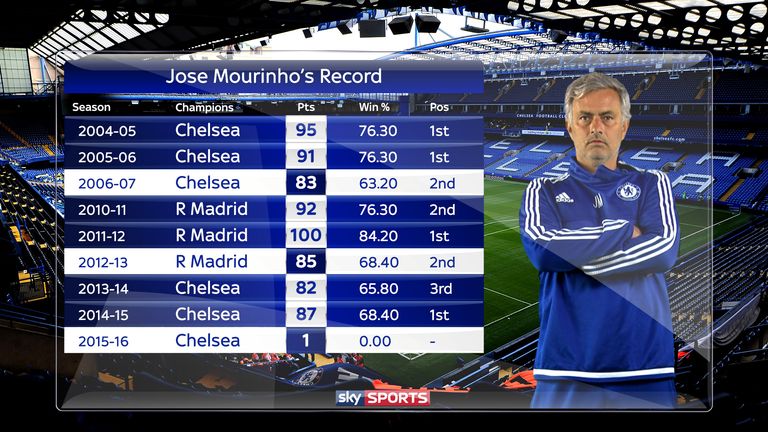 Roman Abramovich's signing of Andriy Shevchenko from AC Milan had been met with resistance by Mourinho, and speculation citing a breakdown in his relationship with the Chelsea owner was rife throughout the campaign. Mourinho eventually lasted until the end of the season, but the damage was done, and he left the club just eight games into 2007/08.
There were clear parallels at Real Madrid. Mourinho was appointed in the summer of 2010 following his Champions League success at Inter. He won the Copa del Rey in the first season before a record-breaking La Liga triumph the following year, but things began to fall apart in season three despite the signing of a new four-year contract at the Bernabeu.
Madrid's win percentage fell from 84.2 per cent to 68.4 per cent in La Liga as they finished 15 points short of Barcelona, and Mourinho became increasingly combustible. His treatment of club stalwarts Iker Casillas and Sergio Ramos caused friction among supporters and players, and there were also feuds with Cristiano Ronaldo and Pepe, with the latter publicly backing Casillas.
On top of that, Mourinho went to war with members of the Spanish press, became embroiled in an unseemly touchline brawl against Barcelona, and there was also extraordinary criticism of striker Karim Benzema. When an injury ruled out his preferred striker Gonzalo Higuain, Mourinho said: "If I can't hunt with a dog, I will hunt with a cat."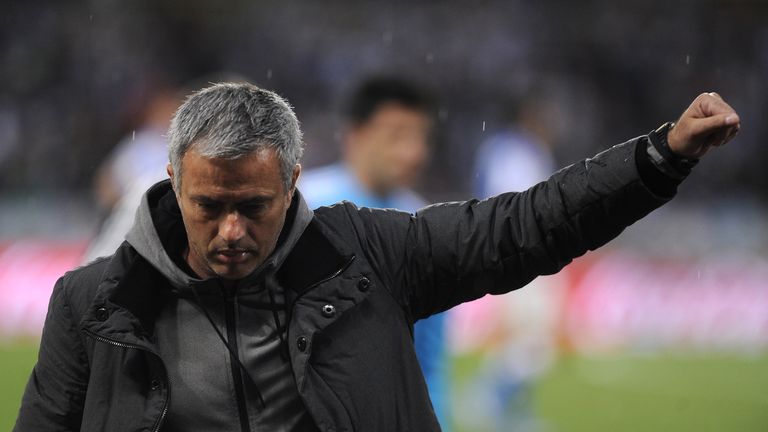 Mourinho declared that season the "worst of his career" after he was sent to the stands during a stormy Copa del Rey final defeat to bitter rivals Atletico Madrid, and he duly left the Spanish capital under a dark cloud despite having three years left to run on his contract.
That leads us back to Chelsea. Last season's title triumph already seems like a long time ago, but the season is still young and the complexion of the campaign could change with a victory at West Brom on Sunday.
Indeed, Mourinho said as recently as May that it would be a "dream" to remain as Chelsea manager for the next 10 years, and it is less than two weeks since he was talking up his future at the club having signed a new contract.
So while it would be premature to suggest Chelsea's season is destined for disappointment, there are certainly plenty of issues Mourinho needs to address. The man who asked to be known as 'the happy one' following his return to Chelsea cuts an irritable, brooding figure at present, and it feels like he needs a lift.
The signing of left-back Baba Rahman from Augsburg is one positive and Chelsea are still pursuing Everton's John Stones – but what they need more than anything is a result to kick-start their season. Sunday's trip to the Hawthorns gives Mourinho a chance to ease the concern. 
Watch West Brom v Chelsea live on Sky Sports 1 HD on Sunday live from 12.30pm