Gary Neville: Manchester United defence currently 'not good enough'
Eric Bailly and Victor Lindelof described as 'second-fiddle centre-backs'
Last Updated: 20/08/18 8:31am
After watching Manchester United lose at Brighton, Gary Neville spoke passionately on the Gary Neville Podcast and Super Sunday about why Manchester United's defence isn't good enough to win the title and why their recruitment policy has let them down...
What Manchester United had to do, particularly in these first two games against Brighton and Leicester, was win.
Any defeat against these two teams, especially in the way they have been beaten today, then as I said before the first game, the dark clouds that were circling over Old Trafford were going to open and burst.
There's no doubt that before the first game of the season, Manchester United needed one or two authoritative new centre-backs.
Jose Mourinho, in his own words, gave the list, and it wasn't delivered. For whatever reason - maybe they were too expensive, they didn't fit the club's philosophy or players weren't available.
You knew full well that once Manchester United hadn't signed those players that the current centre-backs were going to be under big, big pressure.
There's nothing worse for a player in a dressing room than having the club in public talking about players they haven't got and players they want to bring in in certain positions.
What does that do to the confidence of the players who are at the club? Not a lot. What we've seen today are two players in Eric Bailly and Victor Lindelof who are lacking confidence a little bit or maybe they aren't quite good enough. Maybe the answer lies somewhere in between.
To me, they look like second-fiddle centre-backs. If they had, for instance, John Terry, Jaap Stam, Rio Ferdinand or Nemanja Vidic alongside them then they would probably be alright.
I call myself a second-fiddle centre-back, if that. I played a lot of games at centre-back for Manchester United, but I needed someone alongside me of real stature and strength - and a full-back of stature and strength alongside me - or else it was very difficult for me because of my lack of physicality.
You can get messed around a little bit and those two centre-backs today for Manchester United got messed around. It happens quite a bit.
I'm not making excuses for them. There has been £120m of investment in that back four. You've probably got the best goalkeeper in the world, so from a back-five point of view, you could argue there has been serious investment.
However, they are not good enough. Collectively they are not good enough and individually they are not good enough.
I know some of those lads and I've worked with them. I think they could operate in a really good back four, but they need one or two players of stature around them. Jose Mourinho knew that.
Whatever the club think about not wanting to invest further in centre-backs because they've already got five etc, doesn't matter. The end result is still the same. You still need a new back four, you still need new centre-backs.
It doesn't matter if you think you've spent too much money in that area, you still have to make the decision that if Toby Alderweireld or Harry Maguire are available then you've just got to go and get them if you are Manchester United.
If you've made mistakes previously in the recruitment, which the club no doubt has in the first three or four years after Alex Ferguson left, then you have to pay for it and make sure you don't make the mistake again.
It will be a dark eight days before the Tottenham game because the pressure will come and the media will be all over them like a rash. The fans behind the goal spoke with their actions at the end. I'm sure they will be absolutely furious by what they've seen.
I think we should offer balance. It is the second game of the season and it wasn't all just about the defence. I thought Manchester United were poor going forward as well.
They were static, they were poor passing through midfield and there were a series of single passes rather than combinations. When you are trying to chase a game, sustaining attacks and pressure-building is critical.
There were times during my Manchester United career when we had back fours that conceded goals and we didn't win leagues for two or three years at a time. I was part of those back fours and it wasn't good enough. It eroded the confidence of everyone else in front because they thought every time there was an attack against us we'd concede a goal.
There were also times when we weren't good at chasing games, even though we were brilliant at that for the majority of Alex Ferguson's period. There were times when we did lose patience and did force it or play combinations of passes.
Patience, composure and confidence in the final third when you are trying to build will wear the legs out of the defending team and will then start to think 'they are showing patience, they know they are going to score'.
Manchester United didn't show that in the second half today and that was the most disappointing thing, along with the first half defending,
I think it will force Manchester United and Jose Mourinho to go three at the back. I think, with the centre-backs he's got, he will resort to that.
When I look at the centre-back partnerships that he had at Chelsea, they had power and strength in his teams. He hasn't got that here yet.
He is in his third season and I think he will feel extremely disappointed that he wasn't supported in the transfer market. You can't leave a house three-quarters built. You have to finish it and complete the build. Then you can think about selling it or renting it because nobody is going to pick it up off you half-built.
Manchester United have had a problem since Sir Alex Ferguson retired in the transfer market with David Moyes and then Louis van Gaal You could argue £350m to £400m of the £700m that has been spent has not been wasted, but it's not value for money.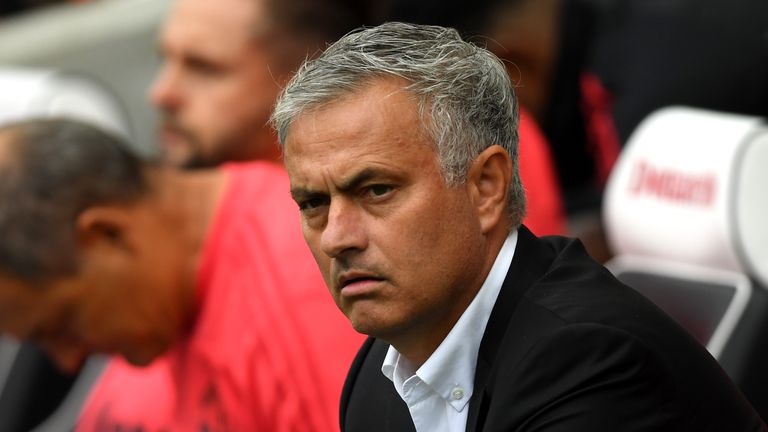 He needs further investment. It's obvious that he does and the club should support him in that because you can't withdraw part way through a process. They have to go for it.
It will get better and Manchester United will get stronger and won't be easy to play against. I do think they will finish in the top four, but the top four historically has never been the benchmark of what Manchester United are. They have always judged themselves by Premier League titles.
At this moment in time, that looks unlikely. Obviously it is still early in the season, but it does look unlikely that Manchester United are anywhere near good enough, as we sit here today.
Forget everything else, that back four is not good enough to win a Premier League title. Let's start and finish with that.
The goalkeeper is the best in the world, the midfield is strong with Paul Pogba, Nemanja Matic and Fred and up front there is Romelu Lukaku, Anthony Martial, Alexis Sanchez, Marcus Rashford, Jesse Lingard, Juan Mata and a lot of good players.
But that back four looks like it will always cause problems and always concede goals. It doesn't have authority and that is a problem.
Jose Mourinho knows about Premier League title-winning teams and about winning titles in different countries.
The base and foundation of that is a good defence.