Nuno Espirito Santo says he and Neil Warnock are 'good friends'
Watch Cardiff vs Wolves live on Sky Sports on Friday
By Sky Sports News
Last Updated: 28/11/18 6:03pm
Nuno Espirito Santo says Neil Warnock and he have cleared the air and are now "good friends" following their heated exchange last season.
Wolves won a dramatic game at Cardiff in the Championship in April to take a huge leap towards their eventual promotion to the Premier League.
The Bluebirds missed two late penalties and Nuno celebrated wildly at the end of the match, prompting Warnock to angrily refuse to shake his hand and later describe his opposite number as a "total disgrace".
However, ahead of Wolves' visit to Cardiff on Friday, live on Sky Sports, Nuno told Sky Sports News: "It is totally over. We had a chance to speak and we clarified things. Now I can say we are good friends.
"Both teams want the same so let's try to be better than them - but always with respect.
"It was a fantastic game last season. It was a very emotional game. Both teams know each other well, and we expect a tough game."
Wolves have only earned one point in their past five matches, and slumped to a 2-0 defeat at home to Huddersfield on Sunday.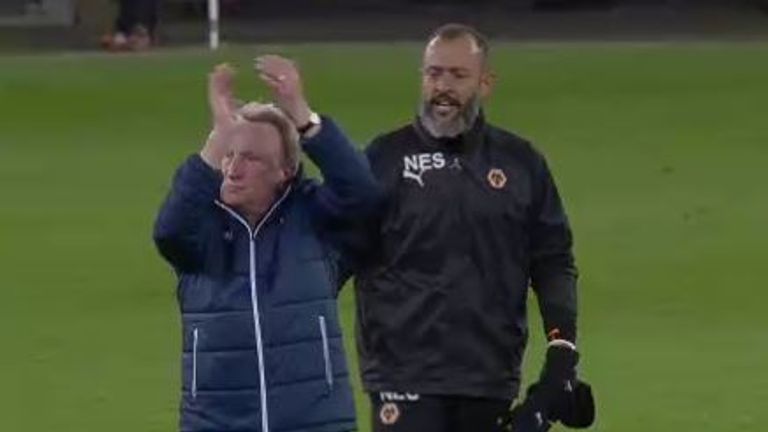 Reflecting on their latest setback, Nuno said: "We were all disappointed. Each one of us has to look inside and see what aspects didn't work out, and bounce back.
"The morale cannot be doubted by a bad result. We truly believe in the way we do things, and we keep moving forward.
"It was a very bad performance from us. We are trying to figure it out and understand why, and now we are going to work. The past is the past, and even from bad moments you can have good lessons."