Nuno Espirito Santo interview: Wolves boss explains his vision
Nuno Espirito Santo's Wolves face Cardiff on Friday Night Football
Last Updated: 30/11/18 1:27pm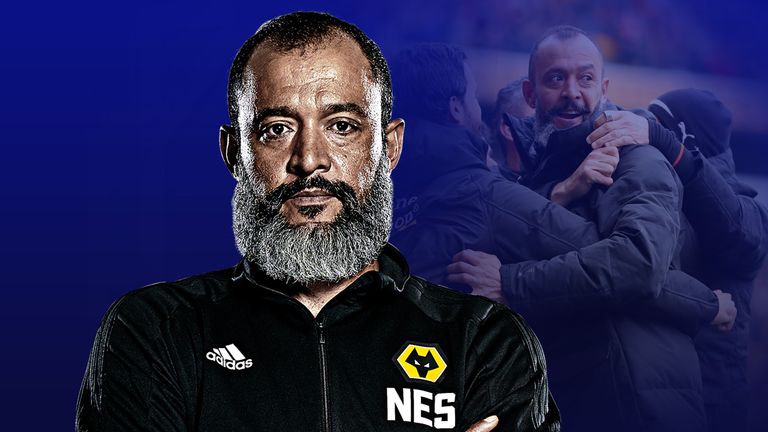 After making a strong start to the season on their Premier League return, Wolves have hit their first sticky patch. But Nuno Espirito Santo will be sticking to his philosophy. Adam Bate caught up with the Wolves coach to find out why the idea will never change…
Nuno had a dream, or so the song at Molineux goes, but the man himself doesn't use that word. "I would not call it a dream," he tells Sky Sports. "Dreaming doesn't achieve things if you don't move your ass. It is about doing things. It is about working and knowing exactly what you are doing on a daily basis. We are not dreamers. We have a clear idea."
Any dreamers at Wolves were woken with a jolt by Aaron Mooy's two goals on Sunday. The 2-0 home defeat to Huddersfield was a reminder that they are going to have to fight for every point they gain in the Premier League this season. But Wolves are still closer to the top six than the bottom six and their meticulous manager wasn't expecting it to be easy.
Nuno Espirito Santo can be an impassive figure in press conferences, fed on a diet of team news requests and the latest stories of Jorge Mendes' influence at Wolves. But away from the cameras, inside his office overlooking the training pitches at the club's Compton base, he is a very different character. One at his most animated when discussing that idea.
He is soon frantically scribbling on a large sheet of paper on his desk. There are formations and triangles with occasional glances up for confirmation that he is being understood. The Wolves shape that he sets out is a familiar one, the 3-4-3 that Nuno established immediately upon his arrival in the summer of last year. But there is more to the idea than that.
"An idea is not a formation," he says. "If you embrace a project that will require time and patience then you need something to work on. So the first step of the project is to create an identity. If you don't have an identity then today you want this player and tomorrow another one. If you have an idea and a shape then this is how you develop an identity."
Hindsight can lend an air of inevitability but Wolves were not favourites to win promotion last season, however emphatic their procession was to become. Having talent such as Ruben Neves to call upon soon had opposition coaches and owners seeking to explain away Wolves' title win but that advantage is nowhere near so obvious in the Premier League.
In a competition where West Ham spent £100m in the summer and Everton parted with half that sum to bring in one player, the margins were clearly going to be tighter if success was to be sustained. The current run of five games without a win emphasises the point but even that includes a draw at Arsenal. Wolves have already had some memories to cherish.
Some of the highlights have been down to individual moments of brilliance. Neves' free-kick against Everton and Rui Patricio's save from Raheem Sterling against Manchester City. Adama Traore, the club's £18m record signing, came off the bench to score a late winner at West Ham, while Joao Moutinho curled home the equaliser at Old Trafford.
But to style this as a story of star names would be to miss out on much of this tale. For every Moutinho there is a Conor Coady, the one-time midfielder who spent a season at right-back prior to being reinvented as the team's sweeper and captain. A player so transformed under Nuno that there have been demands for an England call-up even away from Molineux.
For every Willy Boly, the £10m signing from Porto who has been a colossus at the back since arriving in the summer of last year, there is a Ryan Bennett. A free transfer signing from Norwich City whose career looked to be on a downward trajectory having been surplus to requirements at Carrow Road, Bennett is now in the form of his life at the age of 28.
That is why this is Nuno's triumph as much as it is anyone else's. That most fundamental requirement of management is being achieved - to make those who work for you better. The investment and the contacts book would not have got Wolves this far if the team were not so obviously well coached and well organised in all that they do.
"They have an idea to work to," says Nuno. "Everybody in the squad knows their tasks that they have to work on. They go home knowing what they are going to find tomorrow and I truly believe that is the best way to develop the team. This way you receive the new players based on a core idea that is based on certain rules, tasks, behaviour and character."
Wolves broke a Premier League record by naming the same starting line-up for the first nine games of the season. In every game but one, at least seven of the outfield starters were also part of the Championship winning team. The same three centre-backs have started every single match and so have Matt Doherty and Helder Costa out on the right flank.
Injury to Spain international Jonny during the international break meant that there was a change to the Wolves back five for the first time this season against Huddersfield. But highly-rated Portuguese teenager Ruben Vinagre knew that he'd be expected to step up.
"It goes even further," says Nuno. "We have a back-up for Vinagre in Ryan Giles who spent pre-season with us and is playing every week in the U23s based on our shape. If something happens we still have someone and that goes all the way through the U18s and so on."
Three home defeats in a row - more than Wolves had suffered in the previous 25 games of Nuno's reign - have led to accusations of inflexibility. Could this commitment to the same shape and personnel mean the dreaded lack of a plan B? "What changes your game is not your shape," he says. "It is the characteristics of the players that change the dynamics."
Traore can certainly change the dynamics of a game. Morgan Gibbs-White did the same against Tottenham and Arsenal. But do not expect the shape to change to accommodate them. Nuno might not call it a dream. But he is happy enough to share his vision of utopia.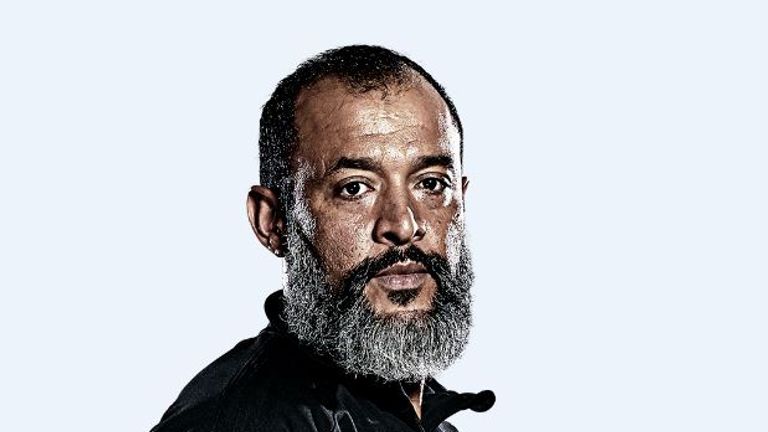 You cannot have a situation where you think that if you want to attack then you play this formation and if you want to defend then you play this formation. For me, this is totally absurd.
Nuno Espirito Santo
"What we want to build with our shape is something that can cope with every moment," he explains. "When you have the ball and when you don't have the ball. When you have to chase the result and when you have to protect a result.
"You cannot have a situation where you think that if you want to attack then you play this formation and if you want to defend then you play this formation. For me, this is totally absurd because you are relying on your opponent not yourself and so you're not improving.
"But if you have something that can become very defensive and then in the next moment become very offensive, this is the right way. It is utopia maybe but this is our idea."
For the most part, Wolves have found that balance. They sit safely in mid-table but the points do not reflect the quality of some of the performances. Only four teams have had more shots. At the other end of the pitch, the expected-goals data suggests that based on the quality of chances allowed, only the top two have been better defensively too.
As a result, while fellow newly-promoted side Fulham have looked far too open, only the top four have conceded fewer goals than Wolves. There has been nothing gung-ho about their approach. Despite both scoring important goals, neither Neves nor Moutinho had a single touch of the ball in the opposition box in the first 10 games of the season.
"The beginning of everything is our defensive organisation," says Nuno. "The clean sheet is always the first objective that we have in the game. Always."
Perhaps that's no surprise coming from a former goalkeeper. But what about the team's finishing? Arsenal would have been well beaten at the Emirates had his Wolves team taken their opportunities and for all their shots they have scored only a dozen times this season.
"We need to improve on the last touch but the most difficult thing about the game is how you create and how you get to that point of having your last touch on goal," he adds.
"People say that the most difficult part is scoring the goal. But what I have to do is get the player there. If you focus on the goal instead of the how then suddenly the chances start to decrease. The encouraging part is that we create and at the same time we are solid."
The coach cannot score for his players. But he can send them out there knowing that they can trust in the system. And as long as they can do that, they can get better. "I truly believe that the players still have a big margin of improvement," adds Nuno.
Wolves have had their wake-up call. But the idea remains intact.