Gareth Southgate has challenged England to fulfil on their progress under his management and win this summer's European Championship.
Expectations have increased around the senior men's national side since they reached the 2018 World Cup semi-finals, and finished third in the following year's Nations League, as they look to win their first major trophy since 1966.
Southgate, who brought up 50 games in charge of England during last month's international break, insisted his side should not be daunted by the pressure and should relish going in as a pre-tournament favourite.
"Of course as a group, we want to win," Southgate told Sky Sports News. "What is the point of us going if we are not going there to try and win?
"We have got a group of players, not just now but for the next few years as well, that is going to mean England are competitive for years to come.
"When we were setting the blueprint for what St George's Park would be about and the progress of the national teams, that was the discussion we had.
"We want to win. If you win, you want to win again - it is a never-ending cycle. We haven't won yet; we've had a lot of praise. We have got to take those next steps."
There will be 22,500 fans at Wembley for all three of England's group-stage matches against Croatia, Scotland and Czech Republic this summer, while they could return to the national stadium for the semi-finals and final.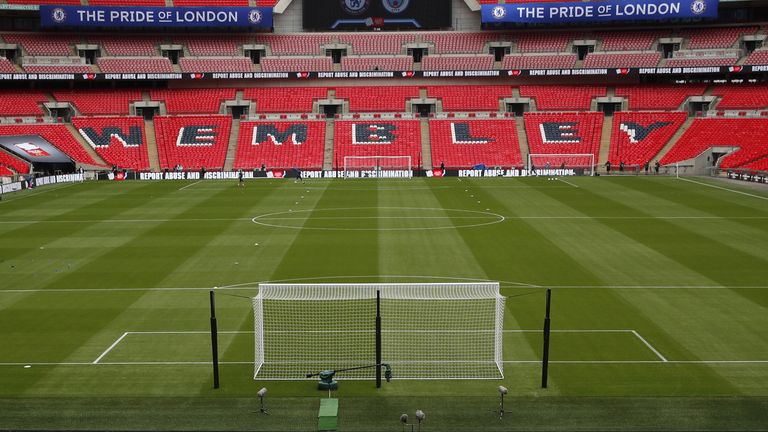 "One day I'll be doing something that nobody is bothered about and it will be quite boring!" joked Southgate, who will name his squad for the tournament in the week beginning May 24.
"So if you want to be in a role where you have got a chance of achieving something special, and we have never been to a European Championship final, so there is always a chance to make history.
"That is the challenge for us as a group of staff but especially for the players. They shouldn't be burdened by that.
"We know it has been a long time since England have had that sort of success - we have made progress over the last few years and we have got to keep that progress going.
"We have got to be looking to be a country that is constantly at those latter stages of the tournaments, which is what the really big football nations do.
"I know we always put ourselves in that bracket but our history doesn't necessarily align with that. Those big nations that have constantly succeeded have always been in those latter stages and we have got to be doing that."
Southgate urges discipline ahead of Euros
Southgate has warned his England players not to blow their Euro 2020 hopes by misbehaving on or off the pitch after seeing their Nations League campaign derailed in the autumn by a string of disciplinary issues.
Harry Maguire was arrested while on holiday in Greece - making him unavailable for two matches - and was then sent off in a home defeat to Denmark, while Phil Foden and Mason Greenwood broke coronavirus rules while on England duty in Iceland.
Southgate's message could also come as a warning to England hopeful James Maddison, who was dropped by Leicester last weekend for breaching Covid-19 protocols.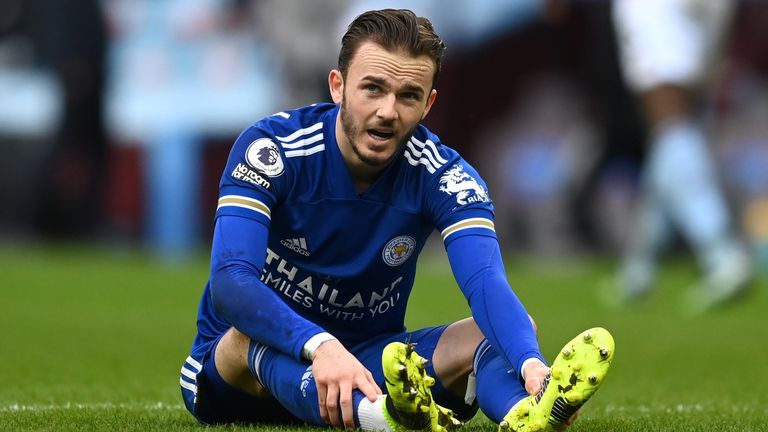 The England manager said: "We had issues in the autumn. That's always very difficult for coaches to deal with. It puts you in really difficult positions.
"I can only compare that with March, where we came in with no dramas coming into the camp. It's just a much better environment to prepare for football. We were only having to make football decisions, prepare the team, talk about football topics.
"When we went into the World Cup in Russia we had minimal distractions going into it. That's something I talked to the players about after the autumn.
"In the autumn discipline off the pitch and on the pitch created really the biggest issues for us and meant we didn't get to the semi-finals of the Nations League that we were desperate to be in.
"It still annoys me when I look at that line-up - Italy, Spain, Belgium, France. It's a brilliant line-up and games you want to be involved in.
"One of the key areas was that we didn't have availability of players at certain times for on and off-the-field misdemeanours.
"Coming into the summer we've got to make sure we arrive into the camp giving ourselves the best chance to focus on football, and that helps to create a calmer environment for everybody to go into the tournament."
Southgate: Football must find social media 'balance'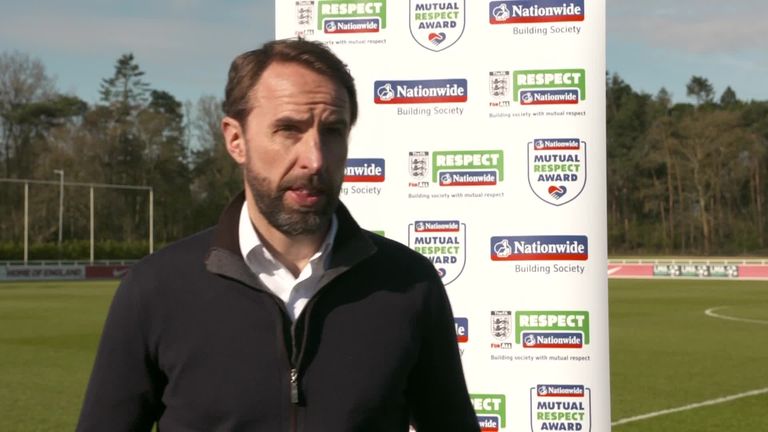 Meanwhile, Southgate says football has to find a balance between using social media to connect with fans and boycotting it due to online abuse.
Scottish champions Rangers as well as Championship clubs Swansea and Birmingham are currently on a week-long break as a result of racist attacks on individuals, former Arsenal star Thierry Henry has quit his platforms and Liverpool captain Jordan Henderson handed control of his accounts over to an anti-cyberbullying charity.
Southgate understands the situation is a complex one and that any form of abuse online is "simply unacceptable".
However, the England manager feels the ability for footballers to connect with followers of the game has brought a new level of interactivity to the sport which he is reluctant to lose altogether.
"We have to strike a balance," said Southgate, speaking at the presentation of a Nationwide Mutual Respect award to Dan Weston and Tina Jacobs for their work done with grassroots football during lockdown.
"We want to make a stand saying what is going on is 100 per cent not acceptable and we are fully supportive of players who are suffering unacceptable abuse, not just England players.
"The other side of that is social media has been such a brilliant part of connecting with our fans and it's brilliant way for the players to stay connected with fans.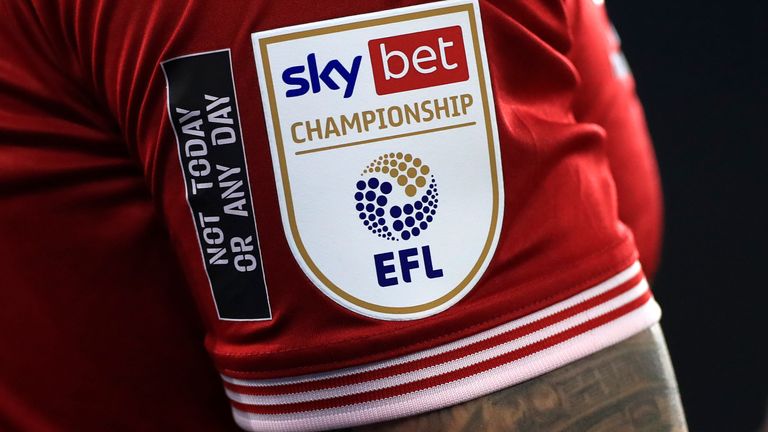 "People say players are unapproachable and social media has played a big part with breaking down those barriers, so we're mindful that there's a balance to be found.
"We have to lobby in the right places for change and better policing of sites so that people cannot just post what they want.
"We understand that's a complex situation, but the big message is that abuse of any kind online is simply not acceptable."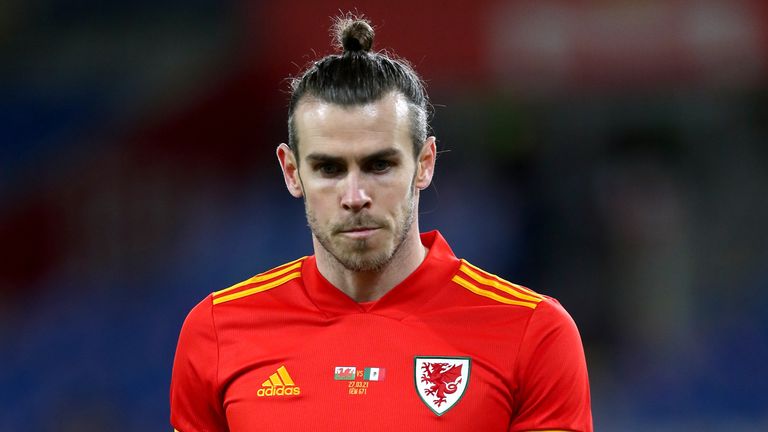 Southgate feels the Nationwide Respect Campaign, a Football Association-led initiative aimed at creating a 'fun and inclusive environment', will be of great benefit at the grassroots level.
"It's all levels of the game," he said. "For a long time, we've had problems getting young referees into refereeing because they just see the abuse that others are getting.
"They're volunteers without whom the game can't continue. The volunteers are our community and it's got to be an environment that's safe and enjoyable for people.
"I think we're seeing more issues in society that we're more aware of. On the field, to officiate at grassroots level has become problematic and we need to make sure parents are setting the right example, but also creating a positive environment for young people to play."
At Sky Sports, everybody is welcome - and that's a message we are proud to share.
We are committed to doing more to tackle racism, highlight racial injustice and support communities impacted by racism.
The social media companies are best placed to deal with harmful content on their platforms, and we would like them to do more. As a publisher on social media platforms it is difficult for us to monitor and manage every comment that is posted and take action against every abusive or hateful comment.
But, we will use the power of our reach and our voice - and the voices of our people - to highlight the scale of online hate and the damage that it can inflict upon our people, the guests on our broadcasts and our customers.
Kick It Out reporting racism
Online Reporting Form | Kick It Out
Kick It Out is football's equality and inclusion organisation - working throughout the football, educational and community sectors to challenge discrimination, encourage inclusive practices, and campaign for positive change.