Antonio Valencia will miss start of Premier League season, says Jose Mourinho
By Matthew Treadwell
Last Updated: 26/07/18 10:47am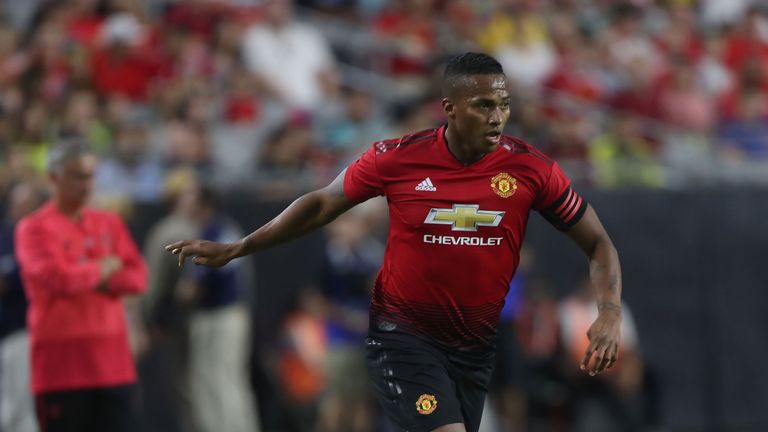 Jose Mourinho has revealed that Antonio Valencia will miss the start of the new Premier League season.
United's captain was injured early on in Sunday's 0-0 draw with San Jose Earthquakes on their pre-season tour of the USA.
Valencia has subsequently left the tour with a torn calf that will see him the season-opener against Leicester on August 10 - live on Sky Sports.
Diogo Dalot, signed from Porto for £19m this summer, will not be fit until September as he recovers from a knee injury, while Ashley Young and Victor Lindelof are still on holiday after playing in the World Cup.
"Valencia is injured, you are right," Mourinho said. "He will be injured for the beginning of the Premier League, Diogo Dalot is also in a recovering phase, he will not be ready for beginning of Premier League.
"Ashley Young is a possibility to play right-back, but is on holiday. I don't know if he fancies to be back for that and put himself to be available for the team or stay on holiday.
"Victor Lindelof is a possibility, he is not a right-back but is a possibility, he starts training next Monday. I will send people to Manchester to train with Victor, it makes no sense for him to come to the United States.
"So if Matteo leaves he leaves because the right offer arrives and if he stays, yes you are right, he can be important for us."
MUTV is the only place to watch all of Man United's pre-season matches live, and hear first on new signings. Go to www.sky.com/mutv to find out more, or go to Sky channel 418 and press red.