Cristiano Ronaldo says it is not acceptable for Manchester United to be aiming for anything less than a top-three Premier League finish, and warned he is not at the club to compete for seventh place.
United have endured a disappointing campaign to date and replaced Ole Gunnar Solskjaer with interim manager Ralf Rangnick in December following heavy defeats to Leicester, Liverpool and Watford.
While Rangnick has steadied the ship with four wins from seven matches and just three goals conceded, they remain seventh in the Premier League and are 22 points behind table-toppers Manchester City after just 19 games.
The lowest point of the German's brief tenure was undoubtedly the home defeat to Wolves on January 3, after which defender Luke Shaw said he did not feel "we were all together" during the match.
Asked whether United could hope to close the gap on their top-four rivals without the correct mentality, Ronaldo said: "Impossible - I think it's the main point.


"I don't accept that our mentality be less than being in the top three in the Premier League.
"I think to build up good things, sometimes you have to destroy a few things. So why not - new year, new life and I hope that Manchester (United) can be the level that the fans want. They deserve that.
"We are capable of changing things now. I know the way but I'm not going to mention it here because I don't think it's ethical on my part to say that.
"What I can say is we can do better - all of us. Manchester (United) belongs to important things, so we have to change that.
"I don't want to be here to be in sixth place, or seventh place, or fifth place. I'm here to try to win, to compete.
"I think we compete but we are not yet in our best level. But we have a long way to improve and I believe if we change our mind, we can achieve big things."
While Rangnick has improved United's results, the performances have been underwhelming, with his side scoring more than once in a match on just one occasion.
Jamie Redknapp told Sky Sports after the Wolves defeat that United had "no identity", but Ronaldo urged Rangnick's doubters to give him time to implement his ideas at Old Trafford.
"Since he arrived five weeks ago he changed many things," said Ronaldo. "But he needs time to put his ideas across to the players.
"It takes time but I believe that he is going to do a good job. We know we aren't playing the best football but we have many games to improve.
"Since he arrived I think in some points we are better, but he needs time. It's not that easy to change the mentality of players and the way they play, the culture, the system like that. I believe that he is going to do a good job."
But while Ronaldo is confident in Rangnick's ability to improve United's fortunes, he did express sympathy for Solskjaer - who he played with during his first spell as a United player - and admitted his former boss' exit was "tough".
Asked how he had found the last few months, Ronaldo said: "Not easy to be honest. We changed Ole, then [Michael] Carrick [caretaker manager], then this new coach. It's difficult when you change so much, it's always tough.
"It's always sad and tough. Ole used to play with me before and now he was the coach. A fantastic person. When he left everybody was sad, but it's part of football.
"When things don't go the way the club wants, the club has to change. I was disappointed but we have to understand the club. It was difficult but life continues.
"But I still believe that we are capable of doing a good season. We know it's going to take time to make the ideas of the new coach on the pitch.
"But I'm looking forward. We have to work hard, we have to be together as players. We know we are not in the best moment, but I believe with working hard we can achieve important things, even this year."
'Interim status could be undermining Rangnick'
Sky Sports' Alan Smith:
"It's certainly not been the bounce we all expected when Ralf Rangnick arrived. I know they have picked up a fair amount of points in the league, but performance-wise, we haven't seen a noticeable improvement.
"There are still a lot of question marks swirling around Old Trafford these days. Rangnick says he hasn't had time on the training ground due to Covid and the number of games, and you can sympathise with that.
"But the doubt about Rangnick is that he hasn't been a manager too much over the last 10 years. He hasn't been in charge of a top club so in many ways he could be feeling his way a bit and finding his feet at a club the size of Man Utd because that is certainly the biggest job he's ever had.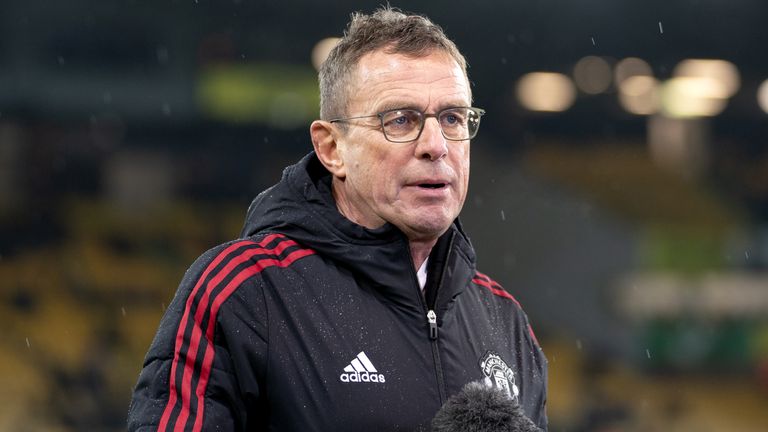 "The jury is still out as to whether he can actually turn it around because what we've seen so far, he hasn't had an effect really.
"The hope for Rangnick was for him to steady the ship, grab fourth in the league and then appoint a manager, but it is not quite panning out that way at the moment.
"I do think that having an interim manager will affect some of the players and their attitudes and performances when they are taking instructions off somebody who they know isn't going to be there as long as they are, at least in the dugout. He might move upstairs but certainly, I do think it can have an effect psychologically on certain individuals.
"It's not ideal when you know he is just there for the short term because the manager needs to feel almost more secure in his position than the players for him to be able to command that authority and respect. The fact he is only going to be there for another four months or so, it's not the ideal situation.
"But that is what Manchester United went for and it was a move they hoped would steady things down so that they could move on in the summer. It's not worked out that way so far."
Follow every Man Utd game in the Premier League this season with our live blogs on the Sky Sports website and app, and watch match highlights for free shortly after full-time.
Want the Man Utd latest? Bookmark our Man Utd news page, check out Man Utd's fixtures and Man Utd's latest results, watch Man Utd goals and video, keep track of the Premier League table and see which Man Utd games are coming up live on Sky Sports.
Get all this and more - including notifications sent straight to your phone - by downloading the Sky Sports Scores app and setting Man Utd as your favourite team.
Hear the best Premier League reaction and expert analysis with the Essential Football and Gary Neville podcasts, keep up-to-date with our dedicated Transfer Centre, follow the Sky Sports social accounts on Twitter, Instagram and YouTube, and find out how to get Sky Sports.