Arsene Wenger says Mesut Ozil will not be leaving Arsenal this January
By Declan Olley
Last Updated: 20/01/18 8:11am
Mesut Ozil will not be leaving Arsenal in January in what has been a "disturbing" period for the club, according to Arsene Wenger.
The Germany international is out of contract at the end of the season and can talk to foreign clubs this month with a view to walking away from Arsenal for free in the summer.
Wenger confirmed Alexis Sanchez's move to Manchester United is "likely to happen", but the Arsenal boss is adamant Ozil will remain at the Emirates until the end of the season.
When put to him whether the 29-year-old would still be at the club in February, Wenger replied: "Yes, of course."

And when asked whether he could move this month, Wenger simply said: "No."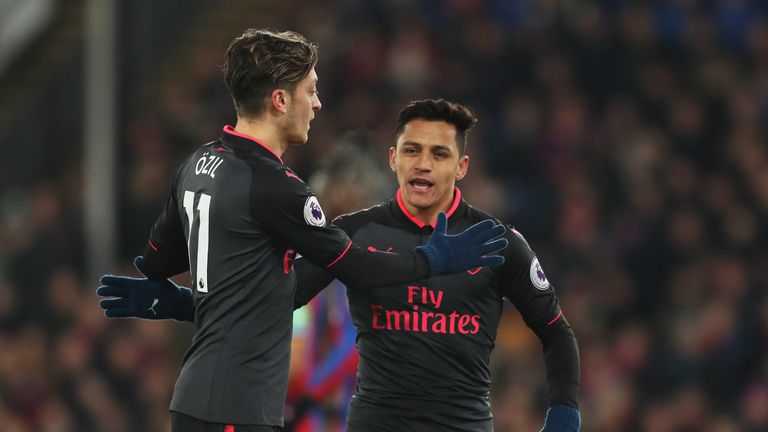 The Frenchman did confirm Ozil "should be back" for Saturday's game at home to Crystal Palace after a knee injury has kept him out since Arsenal's 2-2 draw at home to Chelsea.
Jack Wilshere is another player out of contract this summer but Wenger revealed there has been no progress on a new deal for the England midfielder.
"We know what we want," said Wenger. "We want him to stay and extend after that. We have to find out if he wants to stay and then after that we have to find satisfying financial agreement with Jack that is good for him. That's what we're trying to do."
With three key players' deals running out this summer and constant questions surrounding their futures, Wenger has labelled the situation "destabilising".
He said: "We have to very quickly get over this transfer period because for us especially, this period has been more disturbing than ever. Why? Because we have big players at the end of their contracts and that's the first time it happens that we have such influential players so close to the end of their contracts and it has been more destabilising than ever.
"It occupies you on the pitch and off the pitch and at night as well because you are very busy.
"After that, I think I can deal with the kind of stress it creates and the experience I have helps me to focus on what is important, at the right moment."