Tottenham have confirmed Harry Kane will be sidelined until April and will undergo surgery to repair a ruptured tendon in his left hamstring.
"Following ongoing assessment by our medical staff over the past week, we can confirm that Harry Kane will undergo surgery to repair a ruptured tendon in his left hamstring," said a club statement on Thursday.
"The striker suffered the injury during our Premier League fixture against Southampton last week and specialists have advised surgery after further review of the injury.
"The decision to undergo surgery is not expected to impact the timeframe that the England captain will be sidelined, with the expectation that he will return to training in April."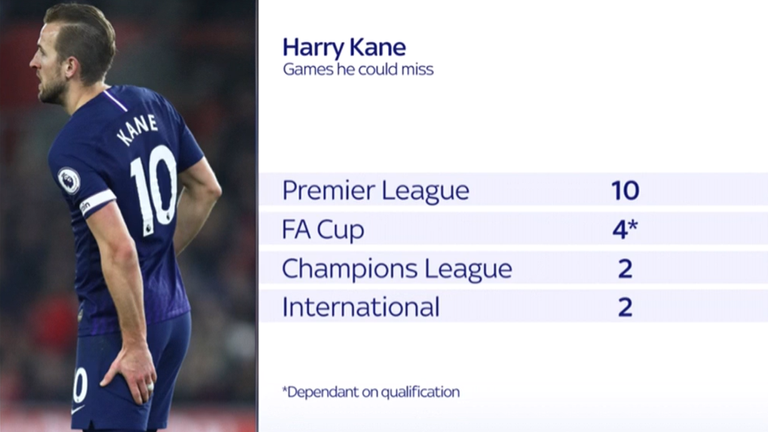 Spurs boss Jose Mourinho had confirmed Kane's injury as serious after the striker missed their FA Cup clash at Middlesbrough and said he was fearing the worst for his "irreplaceable" captain.
Such is Kane's importance to Spurs, they do not have an out-and-out replacement and are currently relying on Heung-Min Son and Lucas Moura to fill the void.
Will Spurs be forced into the transfer market?
The 26-year-old's lengthy absence could impact Spurs' activity in the transfer window, with Mourinho admitting it is "too soon" for 17-year-old striker Troy Parrott to fill Kane's boots.
"I think he's irreplaceable," Mourinho said. "But we have to try solutions in relation to the players we have. I come to work with the players that are available.
"In this moment it is not going to be, 'Harry, Harry, Harry, Harry'. We have what we have and we stick with them. The boys did what they can, you cannot transform Lucas or Son into a number nine like Harry Kane.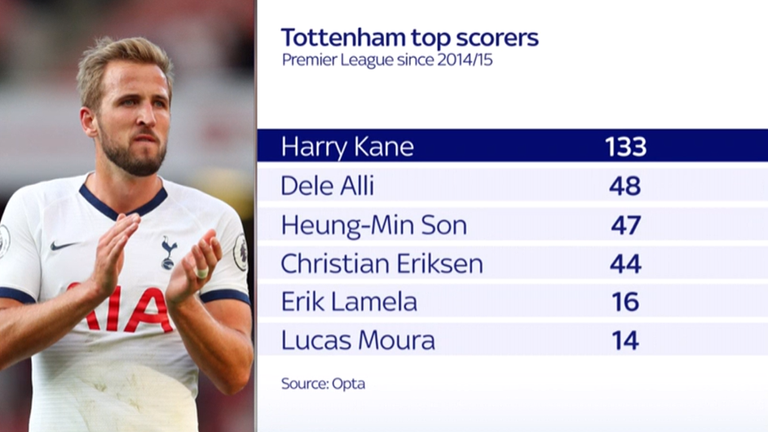 "So we have to try other things and that is what we are going to do. Harry is out, obviously every minute he doesn't play means a lot to us, it is a big loss for us but we have to accept it and we have to fight with the boys that are available."
Spurs also have Hugo Lloris, Danny Rose, Ben Davies, Tanguy Ndombele and Moussa Sissoko sidelined through injury.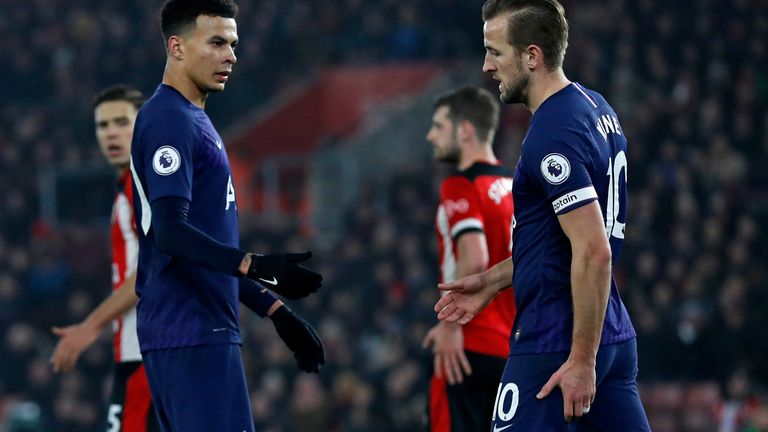 He will be a big miss. He's one of the best strikers in the world so when you have that missing from your squad, it's always going to be difficult, but we still have fantastic players in our squad that can do good things for the team. We are still quite confident in ourselves and going forward, we're looking to win the upcoming games.
Will Spurs be able to cope without Kane?
Analysis from Harry Redknapp on Sky Sports News...
"I am sure Jose will find a way to play without Harry, maybe even with a false number nine.
"They have done it before, they lost Harry last year and they coped very well.
"They have got options, without having an out and out number nine.
"I don't know where they will find another number nine who is going to be good enough to come in and play on a short term basis for Tottenham.
"It is going to be tight - that top four is looking more and more like Liverpool, Man City, Leicester, and the fourth spot is up for grabs."
Can Son have the same impact in Kane's absence?
Analysis from Danny Higginbotham on Sky Sports News...
"Kane being out is more of a blow with Jose Mourinho being manager than it would have been with Mauricio Pochettinio in charge because we saw last year that Spurs were able to deal with Kane's injury very efficiently.
"However, what you miss with Kane more than anything is that he's the ultimate all-round centre-forward. He's not just one specific centre-forward. He can do so many different things in terms of the way he plays the game. He can stretch the game, he can come short and he scores all kinds of goals so he will be a huge miss, there's no doubt about it.
"But Mourinho will be hoping Son can have the same impact as what he had last season when Kane was injured."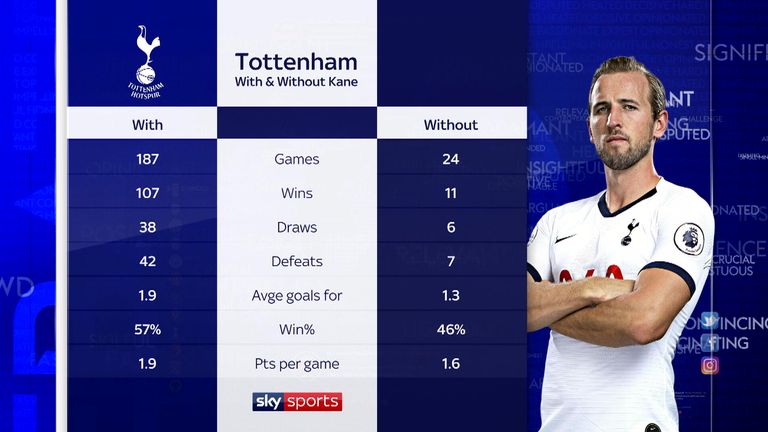 Kane's absence at worst time for Spurs
Analysis from Sky Sports' Ron Walker...
"The business end of the season isn't far away, with the Champions League back in just over a month, and Spurs' slim hopes of a top-four finish could reach a make-or-break point before his expected return.
"Mourinho's side play at least 13 games before they are due to welcome back the England captain, and face Manchester City, Chelsea and Manchester United in the space of six weeks.
"Spurs have occasionally coped well without their talisman, but they won only three of nine games when he suffered an ankle injury in April 2019, and only confirmed qualification for this season's Champions League on the final day of the campaign."
'England have to make plans for Kane absence'
Analysis from former England defender Danny Mills on Sky Sports News:
"Gareth Southgate is no fool, we know that. He's a very intelligent guy and he will be talking to the medical staff at England and at Tottenham, and he will be having conversations with Jose Mourinho himself.
"There will no be a plan b in place for England. Southgate's been through many injuries himself and he will know how long it takes to get over these injuries and he will be thinking even if Kane is fit towards the end of the season, will he be match fit and is he going to be match sharp.
"If he misses 10 to 12 weeks of football, how many games is he going to get then and the Euros? It might be two or three but is that enough to be match sharp to lead the line for England.
"It might not be but again, Tammy Abraham is in good form. The injury possibly gives somebody else an opportunity, but without a doubt Southgate will have a plan b and a plan c, just in case Kane's not fit for the Euros."
England scheduled friendlies
Italy (home) - March 27, 8pm
Denmark (home) - March 31, 8pm
Austria (away) - June 2, 7.45pm
Romania (TBC) - June 7, time TBC
Kane's previous injuries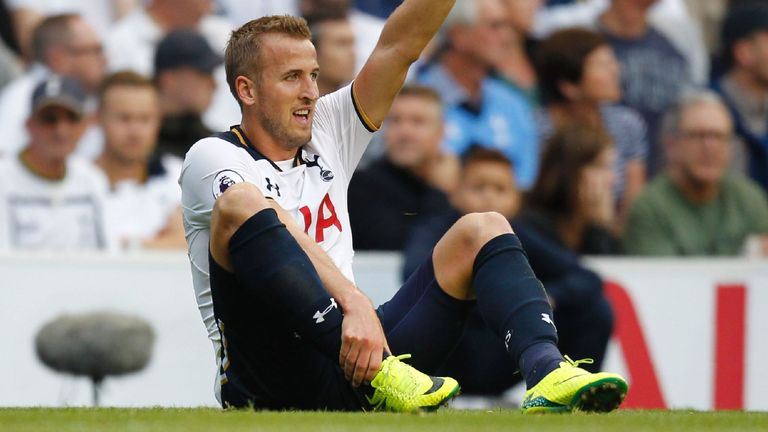 Kane's ruptured tendon in his left hamstring is the latest injury he's suffered in recent seasons.
Here's a look at the extent of the England captain's recent injuries…
September - November 2016
Kane first sustained an ankle injury in a 1-0 Premier League win over Sunderland in September 2016. He fell awkwardly in the final few minutes and scans revealed ligament damage.
March - April 2017
The England striker suffered a repeat problem in the early stages of the 6-0 FA Cup win at Millwall in March 2017. He tangled with Jake Cooper after getting a shot away and was unable to continue.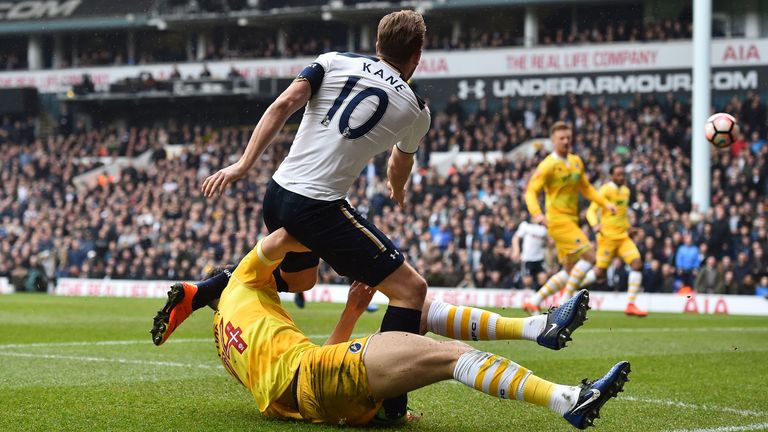 March - April 2018
Almost one year on from his last problem, Kane went down again and it was a worrying time for both Tottenham and England fans ahead of the World Cup. It looked serious as the striker had to limp off against Bournemouth after being caught trying to turn the ball into the net. However, it was a quickfire recovery from Kane, who only missed one Tottenham game.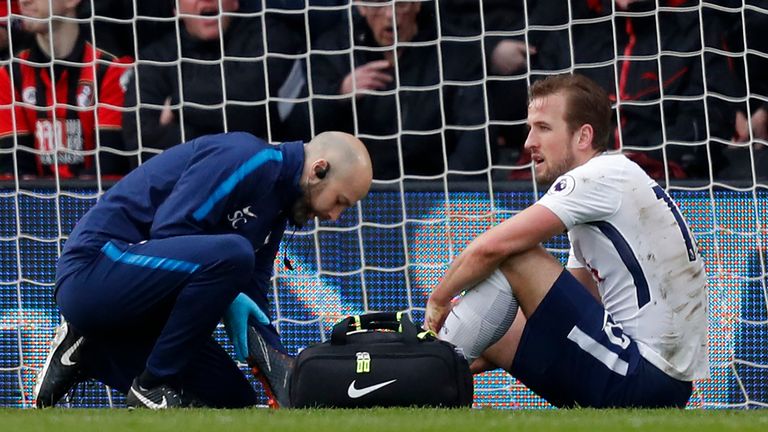 January - February 2019
Another ankle problem for the England captain. He went down at the end of the 1-0 defeat by Manchester United and did not return to action until they played at Burnley nearly six weeks later.
April - June 2019
Harry Kane suffered a lateral ligament injury to his left ankle in the Champions League quarter-final first leg against Man City. He went on to miss nine matches for Spurs and returned to start the Champions League final in Madrid on June 1. However, he could not stop Liverpool winning 2-0.