Mark Hughes sacked but problems run much deeper at Southampton
Southampton are in the Premier League relegation zone
Last Updated: 03/12/18 5:50pm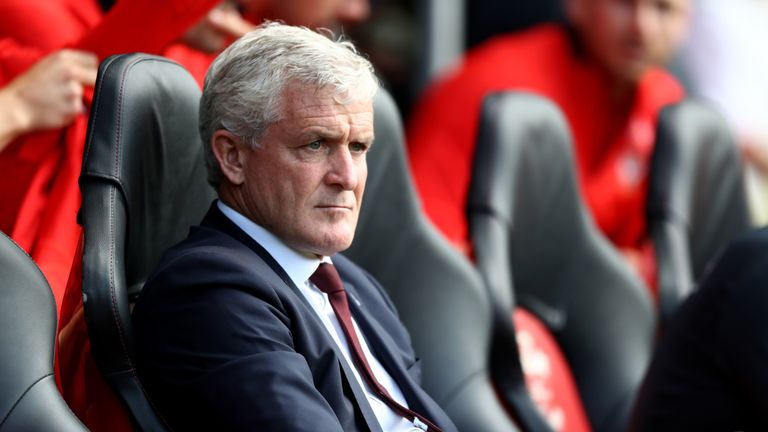 Southampton will feel they had little choice but to sack Mark Hughes but their problems run deeper, writes Adam Bate.
Even a draw with Manchester United was not enough to save Mark Hughes on Saturday. He was axed just 14 games into the Premier League season with Southampton in the relegation zone and still without a home win this season. There will not be too many tears for the Welshman among Southampton supporters but the St Mary's regulars are also well aware the problems at the club run far deeper.
Hughes would not have found himself at Southampton in the first place if that were the case, which is a point he chose to make himself at the weekend. "The perception is that we should be doing better," he told reporters. "Is that realistic? I don't know because we were 17th last year. We are in and around that position at the moment."
It sums up the decline for a club that were once the envy of many because of their uncanny ability to produce Premier League ready talent direct from the academy. Southampton were an example and an inspiration, seemingly able to sell players each summer without seeing the project derailed. But the diminishing returns appear to have caught up with them.
It is a tale of poor decisions coupled with the harsh reality of what happens when momentum is lost. Southampton may have survived last season's cull of one-time mid-table clubs Stoke, West Brom and Swansea, in part thanks to Hughes, but now that looks like a mere stay of execution.
Recruitment in the dugout has been an issue. Mauricio Pochettino was replaced by Ronald Koeman who was replaced by Claude Puel and while the entertainment levels declined, the club's league position held firm. But Mauricio Pellegrino could not maintain it and neither could Hughes. Rank the abilities of those coaches and it explains a lot.
Hughes was culpable, for sure. When he began the season with a back three at home to Burnley before swiftly abandoning it, this did not suggest there had been much clarity during pre-season. But if he was quick to give up on the formation, his reluctance to drop underperforming players became an annoyance for the increasingly frustrated fans.
The points dropped against United were nothing new. Southampton have given up 12 of them from winning positions this season - more than any other team. The fragility needed to be addressed on the training ground but Hughes' in-game decision-making was a concern too. His negative substitutions against Leicester and, in particular, Brighton were seen as inviting pressure prior to costly last-minute goals going in.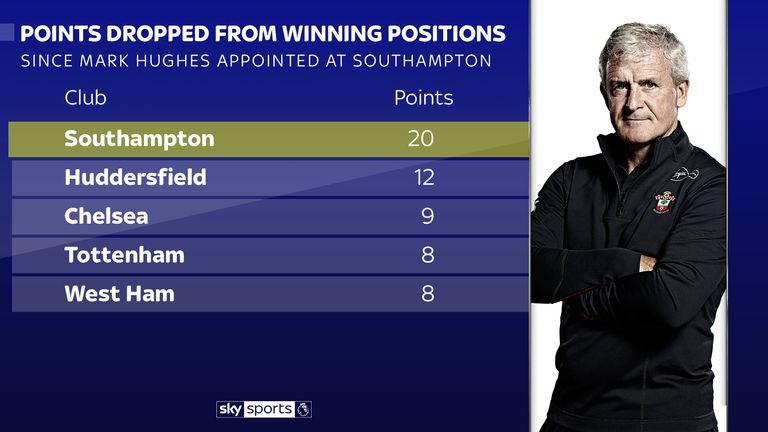 Ultimately, however, the manager could only work with the players the club recruited and this does not reflect well on the much vaunted black-box thinking espoused by director of football operations Ross Wilson and vice-chairman Les Reed, who was sacked himself last month. The list of expensive acquisitions in recent times does not make impressive reading.
Sofiane Boufal has talent but not consistency, while Manolo Gabbiadini and Mario Lemina have stuttered after encouraging starts. In 2018 alone, big money has been spent on Guido Carrillo, Mohamed Elyounoussi and Jannik Vestergaard. None have been a success so far and those six signings represent well over £100m in transfer fees.
"We know what we are doing here," said Reed back in 2014 when Southampton's methods were still being lauded. "There was a five-year plan in 2009 when this club was in League One. We got out of there ahead of target. Then we got out of the Championship ahead of target. We are at the start of our next five-year plan now. There is no panic. We march on."
As that next five-year plan nears its climax under a different owner in Gao Jisheng, Southampton may be marching on but one can only wonder in which direction they are travelling. Many of the club's underperforming players are clutching long-term contracts that could saddle Southampton for years to come. Hubris has caught up with a club that prided itself on staying ahead of the game.
Perhaps the decision to sack Hughes will be the start of a new cycle. Despite his aforementioned comments that hinted at the inevitability of the club's plight, even the man himself suggested at the weekend the expectations at Southampton were justified. "I can understand it because I think we are better than where we are," he claimed.
But for that to happen it will require a major shake-up at St Mary's. That was never likely to happen under the leadership of a coach who has now taken 32 points from his last 38 games as a Premier League manager as well as suffering the ignominy of being the first man to be sacked from two jobs in the competition in the same calendar year.
Hughes was not the solution for Southampton. But it would be foolish to think that his departure just six months into a new three-year contract will be the end of their problems either. A squad of misfits, a team lacking in confidence and organisation, and a disillusioned fan base. These are the hallmarks of decline. Southampton's problems run deep.