Marseille's home game against Rennes was postponed just three hours before kick-off on Saturday after angry Marseille fans marched to the club's training complex to protest against poor results.
Videos circulating on social media and posted by local newspaper La Provence showed trees burning outside the entrance to La Commanderie with fans throwing flares and trying to force their way in.
Sports daily L'Equipe's website reported that Marseille's players were present at the time, and that defender Alvaro Gonzalez was hit on the back by a projectile when he went to speak with supporters. No further details were given.
A Ligue 1 statement released on Saturday said no new date has been set for the match, but Marseille's next home game will fall under close scrutiny since it is against bitter rivals Paris Saint-Germain next weekend.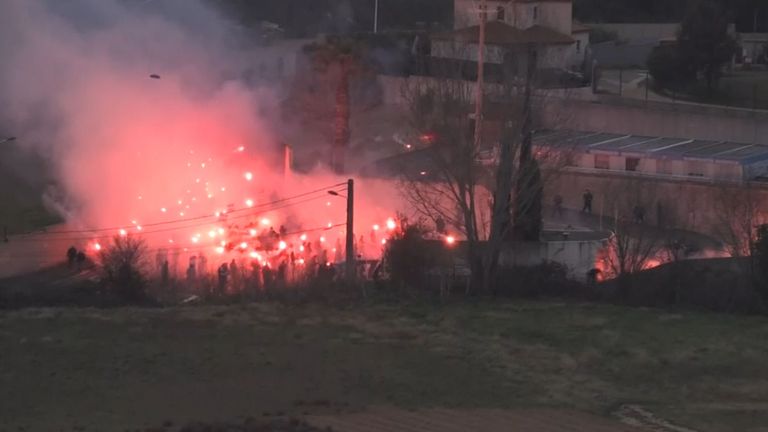 "Olympique de Marseille strongly condemns the unacceptable attack suffered by the club in the middle of the afternoon inside the Robert-Louis Dreyfus training centre," a Marseille club statement read.
"Despite the intervention of the police, an unjustifiable outbreak of violence endangered the lives of those present on site. Thefts were committed and vehicles were damaged. Five trees were burned with the sole desire to destroy. The damage inside the buildings amounts to several hundreds of thousands of euros.
"These irresponsible and unacceptable actions must be condemned with the utmost severity. Olympique de Marseille has all the evidence, and this was immediately forwarded to investigators."
"I know everything about this club, I know the love and the frustration it can generate," said Marseille captain Steve Mandanda.
"But today's events sadden me and are unacceptable. We are football players and a sports crisis can in no way justify such a surge of violence."
The incident comes nine days after fans turned on the players at Stade Velodrome before a home game against Lens, which Marseille lost 1-0.
One of Marseille's several supporters groups managed to write 'Vous Etes Degueulasses' (You Are Disgusting) in big letters on the seats in what is usually their section of the stadium.
Another banner read 'Vous Nous Faites Honte' (You Bring Shame On Us), and there were also posters displayed outside the stadium criticising club president Jacques-Henri Eyraud.
The team have lost their last four games in all competitions - in Ligue 1 to Monaco, Lens and Nimes, as well as the Trophee des Champions final to Paris Saint-Germain.