Gareth Bale's Real Madrid team-mates appear to have seen the funny side of him posing with a flag that read "Wales. Golf. Madrid. In that order."
The 30-year-old celebrated Wales' qualification for Euro 2020 by singing and parading the flag after Tuesday's 2-0 win over Hungary.
Bale has been criticised in Spain for prioritising international football - and even a round of golf - over club duties, having not played for Real since October 5.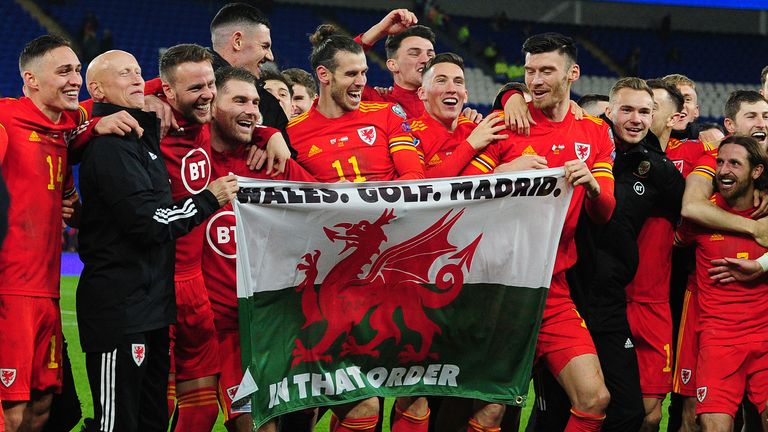 His decision to pose with the flag was not well received in the Spanish media, with the majority of voters in a MARCA poll stating Bale showed "a lack of respect for the club and fans."
But Bale appeared in a jovial mood while training in Madrid on Friday and was seen laughing as team-mate Mariano mocked him with a golf swing.
Real Madrid boss Zinedine Zidane attempted to defuse possible tensions between the club's fans and Bale and publicly backed his forward on Friday, insisting he is not interested in the flag incident.
"When you look at what Bale has given to this club, the fans, the real ones, the ones who feel the colours, the ones who are here for the club, the people who are going to come to the stadium, know that Bale is part of our team and they have to be with him because he is with us," Zidane said.
"Everyone has their own opinion and it's one thing that's already too much. You know the situation, he's been with the national team, he's been able to play and now he's with us.
"He's given a lot to the club and I'm only going to look at the sporting aspect, because outside there are a lot of comments and I'm not here for that. I know a lot of people are interested, but I'm not.
"I'll always be with the players, things can happen outside the club, but we'll always look out to the pitch, we don't control what's outside. I talked to Bale like I talk to all the players. He's fine, he's trained normally."
Real have been preparing for Saturday's home match against Real Sociedad, where they will look to extend their five-match unbeaten run in all competitions.