Cristiano Ronaldo is confident of bringing the glory days back to Manchester United as the Portuguese forward insisted he is "not here for a vacation".
Ronaldo claimed three Premier League winners' medals and one in the Champions League in his first stint at Old Trafford and continued to enjoy a trophy-laden career after leaving for Real Madrid and then Juventus.
United's success since the departure of manager Sir Alex Ferguson in 2013 has been far more fleeting and it is now eight years since they won the top-flight title, but the surprise return of Ronaldo to the north-west could give them a shot in the arm.
The 36-year-old forward certainly hopes so ahead of his second debut against Newcastle on Saturday.
"This is why I am here," he said in an interview with the club's official website. "I am not here for a vacation.
"Before was good, winning important things and I wore the shirt before, many years ago, but I am here to win again.
"I am capable, me and my team-mates. I am ready to go, I am ready to go. It is a good chance for me, for the supporters, for the club, to get one step ahead.
"I am ready and I think I will be a huge thing in the next three or four years."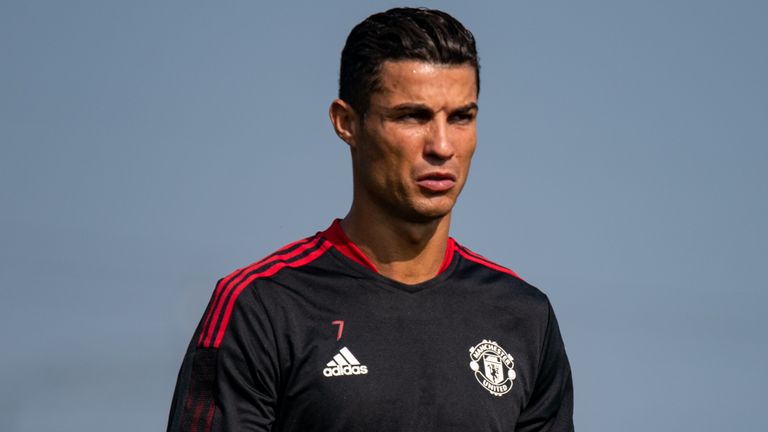 Ronaldo is hopeful he will start on Saturday and the five-time Ballon d'Or winner admits he feels nervous ahead of the match, much like he felt when making his first debut for the club as an 18-year-old against Bolton Wanderers.
"I was so nervous - I didn't expect to play," added Ronaldo.
"When I signed for Manchester United I thought I would go back to Portugal and stay there for one more year [on loan], but Sir Alex Ferguson said 'no, you're going to stay here and be in the squad for the game'.
"I was super nervous. I called all my friends and I didn't even expect to come on in the game, so I was super nervous.
"Of course I will be nervous on Saturday but now I'm more mature, more experienced and I will be prepared. And I hope I can make pressure on Ole [Gunner Solskjaer] to start. I am ready to go."
Ronaldo is pleased to be working under his former team-mate, with other familiar faces such as Michael Carrick and Darren Fletcher still at Old Trafford from his previous spell.
"This approach makes it easier for me. We play with Ole, Fletch, Carrick. They know me, they know the way I am, the way I play," Ronaldo said, in an interview with another former team-mate Wes Brown.
"It was great to be part of this era of Manchester United, and now with the new players and the new generation.
"Things have changed but the mentality of the club has never changed. It is always to win, to make history and I'm here to help the team make history again and put Manchester United where they deserve to be."
Manchester United host Newcastle in the Premier League on Saturday September 11 (3pm kick-off).
You can follow the game with our live blog on the Sky Sports website and app - and get details of Solskjaer's starting line-up as soon as the teams are announced at 2pm.
You won't need to wait long to see the match highlights - we'll bring them to you for free from 5.15pm on the Sky Sports website and app, as well as on our Sky Sports Football YouTube channel.
And we'll serve up the best stats, analysis and reaction after the game.