England's eerie experience at the Stadion HNK Rijeka in Croatia
Stadion HNK Rijeka hosted England's first match behind closed doors
Last Updated: 13/10/18 4:58pm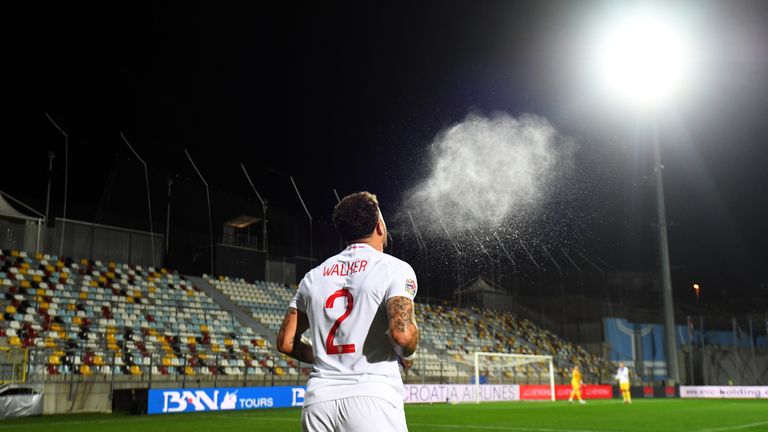 Just under 1700 miles lie between Wembley Stadium and Stadion HNK Rijeka but, after England's goalless Nations League draw in Croatia, the two grounds could not have been further apart, writes Jack Wilkinson.
As those fortunate enough to be granted access to the behind-closed-doors game made their way through deserted roads to the stadium, it had the making of a once in a lifetime experience. Gareth Southgate's England, three months on from their heartache in Moscow, had the chance to avenge their World Cup semi-final defeat to Croatia - and a very select few would be there to witness it in person.
But what transpired was an eerie evening, an evening bereft of the characteristics that make football the engrossing sport we all love. The streets were empty, the hubbub of excitable fans missing, the scarf-sellers nowhere to be seen. Instead a football match, stripped of it's defining features, laid bare in front of us.
It was clear the atmosphere, or lack of it, had an impact on proceedings as the two sides who served up a thriller at the Luzhniki Stadium in July took their time to settle to the unfamiliar surroundings. There were 37 minutes on the clock by time Ivan Perisic registered the first effort on target - Kieran Trippier needed just five to ignite the World Cup semi-final.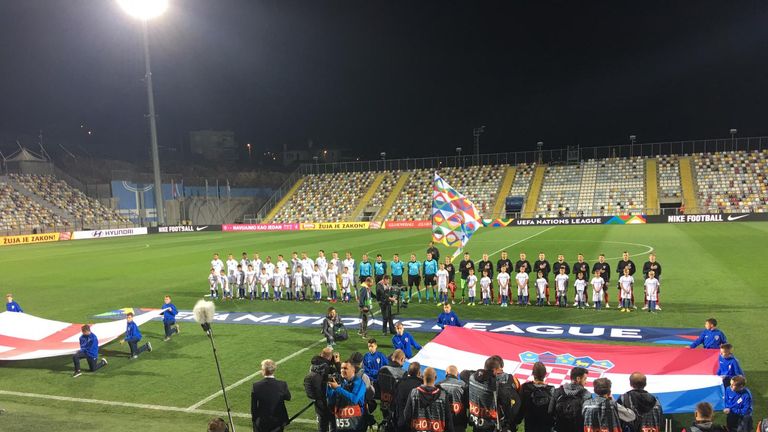 Despite a heightened security perimeter, a few England supporters, no more than 30, congregated on top of a hill that rose behind one of the stands, although their efforts proved fruitless in the first half, with action at a premium on the pitch.
Try as the travelling contingent may, their attempt at creating an atmosphere proved too big a task, with faint renditions of 'God Save the Queen' drowned out by the audible running commentary from both sets of players, and the assembled media in the stands.
"I could hear noise [from the supporters]," England manager Gareth Southgate said in his post-match press conference. "It's a shame for the supporters, some of whom have not missed a game for 10 years or more.
"When I'm on the bench I'm engrossed in the game, so the atmosphere did make a difference to me. But we understand the situation and hope ourselves or Croatia don't find ourselves in that situation again."
Things improved in the second half and England will feel they should have won the match after striking the woodwork through Harry Kane and seeing Marcus Rashford spurn two glorious chances.
Perhaps England would have won the game had they had their devoted fanbase been on hand to get them over the line. Perhaps Croatia would have done in their first competitive match on home soil following their run to a maiden World Cup final this summer.
It's worth clarifying that racism of any kind does not, and never will, have a place in football, but with the second and fourth-placed sides from this summer's World Cup replaying each other just three months after producing on one of the games of the tournament, it begs the question whether UEFA could have adopted a different form of punishment that holds those culpable to account rather than innocent fans and players.
Those sentiments are echoed by Croatia head coach Zlatko Dalic, who said: "The atmosphere is not easy for anybody, it's sad for football but hopefully this is our last time.
"Football is played for the fans, it's sad that Croatia and England are playing behind closed doors. I don't know who that is good for.
"It's a new competition, the Nations League, maybe UEFA could have done something different with their decision but that is not my job, it is what it is, although I think this kind of game deserves a full stadium, bigger than this one.
"Our next match against Spain, there will be 30,000 people in a full stadium in Maksimir and that will be more fun than today."
One thing for sure is that there will be fans and an atmosphere when England take on Spain in Seville on Monday, with as many as 3,000 travelling supporters are expected at the Estadio Benito Villamarin.
If Southgate's side rise to that occasion like the one they did in Rijeka, that looks like a trip worth taking.