Kosovo's flamboyant manager Bernard Challandes says his team is not afraid of playing an England side he describes as the "best in world football".
The 68-year-old Swiss coach delivered a press conference to remember on Sunday as he emphatically described his "crazy pressing" style of play that has seen Kosovo make an unbeaten start in their European qualifying campaign.
There was no repeat of Sunday's scenes when he addressed the media on Monday, but Challandes insisted he is aware of the scale of the challenge facing Kosovo, who have only been a recognised footballing nation for three years.
"We are Kosovo and we are here against one of the best teams in the world, in my opinion the best team in the world," he told reporters ahead of Tuesday night's clash in Southampton.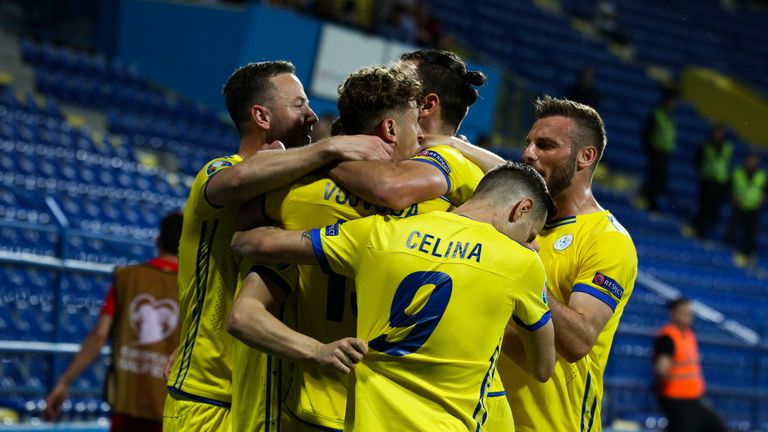 "I think it is in my philosophy that if we don't dream it is unnecessary to play such games, we should dream and do all that is possible to disturb England.
"I will see tomorrow because with Kosovo we are a young federation, never have we played against such an opponent.
"For me as a coach it is not easy to have a good mix for the evaluation of this game.
"If I say 'we come to win', I think a lot of people think that is pretentious; if I say 'it is not possible to win against England', I must change my job.
"Never did we think after four games that we play for the first place here in England.
"It is clear for me it will be a very, very hard game but it is a possibility for our very young team to show what is a very, very high level."
Challandes conceded Kosovo will come up against some top players when they line up against England at St Mary's but says he does not intend to simply try and defend.
Asked about the form of Harry Kane - who hit a hat-trick in England's win over Bulgaria on Saturday - Challandes said: "Harry Kane and (Raheem) Sterling and (Marcus) Rashford and, and, and, and, and...!
"For me it is a wonderful team but I have only this way in my head - I don't want to say to my team, 'OK, we stay in our own half and defend, defend, defend' - I hope we can play and be an opponent, not a big opponent but an opponent with intensity."
'Not your average Manchester City fan'
Sky Sports News reporter Kaveh Solhekol brings the lowdown on the flamboyant Kosovo boss' character.
Bernard Challandes is not your average Manchester City fan.
He is a highly-respected Swiss coach and manager of the Kosovo side who play England in Southampton on Tuesday.
Win and Kosovo will replace England at the top of group A. Not bad for a country who were recognised by FIFA and UEFA only three years ago.
Challandes is a very engaging character. That much was clear when he was interviewed at the Euro 2020 draw in Dublin last December.
He was thrilled Kosovo had been drawn in the same group as England and he could not quite believe he would be leading his team out at Wembley.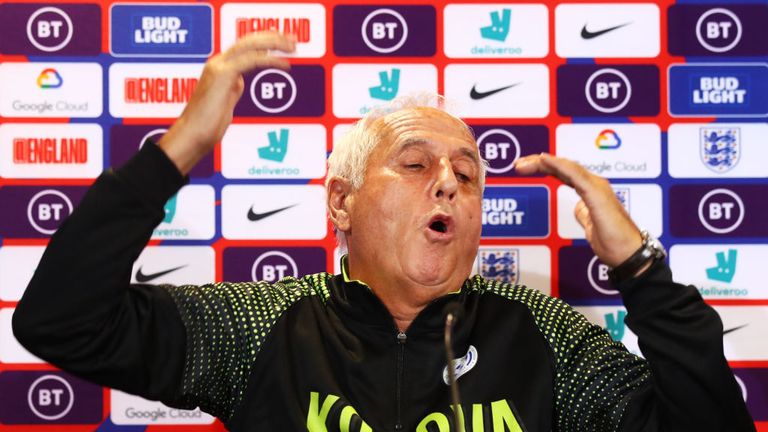 You could be forgiven for assuming Challandes would be disappointed the FA have switched the venue for the game to St Mary's.
If he was, then he was hiding it well at the pre-match news conference on Monday.
This is a man who lives and breathes football. A man who is in love with English game. A man who gets his thrills from watching the high-intensity game played by sides such as City and Liverpool.
Pep Guardiola and Jurgen Klopp are his favourite managers, but Gareth Southgate is right up there too.
He talks in reverential hushed tones when he describes the job Southgate is doing with this crop of English players.
When it was pointed out to him they had not won a major trophy for 53 years, Challandes waxed lyrical about the Premier League - the intensity, the passion and the power of the English game.
That is how he wants his Kosovo side to play against England. They will not sit back and hope for the best, they will press high and give everything in the biggest game in Kosovo's short history.