The UK Government has given the green light for live competitive sport to return behind closed doors "in safe and carefully controlled environments" from June 1.
Deputy Chief Medical Officers of England, Public Health England and medical experts across Olympic, Paralympic and professional sports governing bodies have contributed to the latest guidelines which have been revealed by the Department for Digital, Culture, Media and Sport (DCMS).
It follows an update last Monday from the UK Government which gave permission for "close-contact and competitive" training to resume for all sports.
The 'Stage three' of elite sport guidance stresses that there will be no spectators present at live sporting events, outlining the health and logistical processes that will need to be put in place to enable events to take place behind closed doors.
The Government has published the protocols to ensure social distancing is adhered to at all times at sporting venues, stating that: "all competition delivery partners and user groups involved, from the teams and athletes, to the support staff, officials and media, must travel individually and by private transport where possible."
The announcement adds that "a screening process" will be in place for those entering venues, dressing room usage and physiotherapy treatment should be "minimised", and that medical staff must abide by advice from Public Health England regarding medical safety and the use of Personal Protective Equipment (PPE).
To ensure regulatory standards are met, elite sports organisations and competition delivery partners have been instructed to "appoint a named COVID-19 Officer to be responsible for oversight of all planning and communications."
Secretary of State for Digital, Culture, Media and Sport, Oliver Dowden, said: "The wait is over. Live British sport will shortly be back on in safe and carefully controlled environments.
"This guidance provides the safe framework for sports to resume competitions behind closed doors. It is now up to individual sports to confirm they can meet these protocols and decide when it's right for them to restart.
"This is a significant moment for British sport. By working with clinicians every step of the way, we are creating the safest possible environments for everyone involved."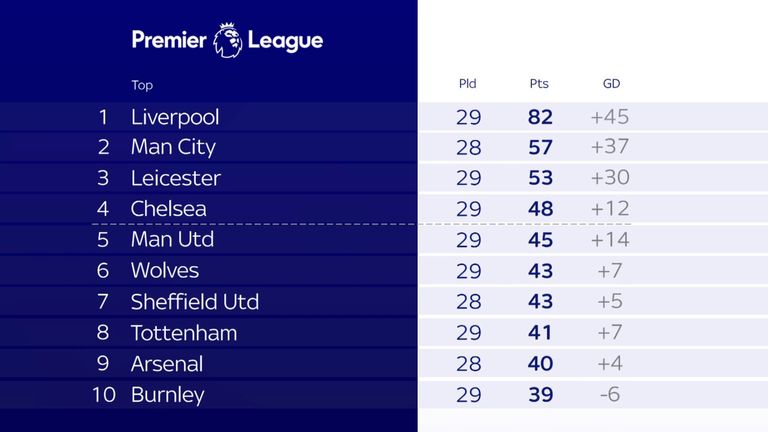 Following the announcement, Premier League chief executive Richard Masters said: "The Premier League welcomes the Government's announcement today.
"All major sports, including the Premier League, have been working together with the Department of Digital, Culture, Media and Sport to produce this Stage Three protocol.
"We could not have reached this point without the full support of the Government, especially DCMS, Public Health England and the Chief Medical Officer's team.
"We have provisionally planned to restart the Premier League on 17 June, but there is still much work to be done to ensure the safety of everyone involved. This includes consulting with our clubs, players and managers - along with all our other stakeholders - as the health and welfare of our participants and supporters is our priority.
"If all goes well, we will be thrilled to resume the 2019/20 season in just over two weeks' time."
The Premier League is set to return on Wednesday, June 17 after a three-month hiatus due to the suspension of the campaign amid the coronavirus pandemic.
Sky Sports will show 64 live Premier League games. In addition to the 39 matches scheduled to be broadcast on Sky before the coronavirus interruption, 25 more matches will be available on both Sky Sports Premier League and Sky's free-to-air Pick channel.
Aston Villa vs Sheffield United and Manchester City vs Arsenal are scheduled to be the first two games when the Premier League resumes next month, with a full round of matches taking place for the first time since the restart on June 19-21.
There have been 12 positive tests recorded following the first three rounds of coronavirus testing for top-flight clubs.
Teams from the Championship, League One and League Two will decide whether to change regulations to allow the season to end on June 8.
In addition, following consultation with clubs, the FA announced the curtailment of the Women's Super League 2019-20 campaign earlier this week.
At the Government's daily briefing on Saturday, Culture Secretary Dowden also addressed concerns over women's sport being hit acutely by the impacts of the pandemic.
He said: "Given momentum built up around women's sport after the football, cricket & netball World Cups, I'll be working with the sports minister [Nigel Huddleston] to make sure we don't lose any of that progress.
"Visibility matters and our daughters deserve to see female athletes on the main stage."
State of play for rugby, cricket, horse racing returns
The first major sporting event is expected to be the 2000 Guineas Stakes at Newmarket Racecourse on June 6, while racing at Newcastle on Monday is set to be the first event to take place since sport was halted and lockdown measures were put in place.
Meanwhile, a number of issues still remain unresolved regarding a resumption of competitive action for Premiership Rugby. The PRL has targeted a four-week return programme and has also rejected a trial of World Rugby laws around scrums, tackling, rucks and mauls designed to limit the potential spread of coronavirus.
The West Indies have agreed "in principle" to play their three-Test series at bio-secure venues against England in July, with England naming a 55-member training squad ahead of their return to international cricket.
The ECB has also extended the suspension of the domestic cricket season to August 1.
Up to six people able to exercise together outdoors
The Government also confirmed on Saturday that in England you will be able to exercise outside with up to five other people from different households from June 1, while maintaining a two-metre distance and adherence to social distancing guidelines.
A safe return for competitive grassroots sport is also being worked towards, as people who play team sports are now able to train outdoors, but "anything involving physical contact is not allowed", and "outdoor gyms, playgrounds and both indoor and outdoor swimming pools" remain shut.
Sports minister Nigel Huddleston said: "The coronavirus outbreak has demonstrated to so many of us how important exercise and fitness is, both for our physical and mental wellbeing, and I am hopeful that people will continue to make time for it as life gradually returns to normal.
"This next step will allow more of us to exercise with more people from outside our households providing social distancing is maintained.
"We are working hard to get grassroots sport back up and running safely too, so that people can reunite with their own football, rugby or cricket teammates and get back on their pitches, fields or athletic tracks. But we will only do this when it is safe and appropriate to do so, based upon scientific advice."
'This is a landmark decision for UK sport'
Analysis from Sky Sports News reporter Geraint Hughes...
The return of domestic competition for elite sport in England has been the government's aspiration for almost three months.
Ever since sport was suspended in March, a Cross-Sport Working Group was convened. It was designed to bring together the right people with the right expertise to work through the various hurdles that would need to be cleared for elite sport to return.
Now they have come up with a set of guidelines that carries the safety of the athlete is at its heart.
The 'opt-in', not 'opt-out' caveat has been a key part of a process that aims to ease concerns from all athletes, whether they are Premier League footballers, cricketers or jockeys.
Given that the Working Group has some of the most experienced medical professionals from within sport meeting alongside senior administrators, it's no surprise that delving down into the minutiae of the 'Step three' detail is complicated.
There is an onus on individual sports to work through potential problems that could arise around social distancing; for example with football, what happens if there is a dispute between players from opposing sides over a bad tackle or a dispute with a referee over a controversial decision?
Given the guidance in 'Step one' & 'Step two' with regard to returning to training, importance is now being placed on using common sense and a cool head in competitive sporting scenarios.
Clearly, when live sport returns, it won't be the same as it was three months ago.
There will be no crowds of course, but the 'Step three' protocols approved by the government are appealing for a realisation that behaviours need to be different than they were perhaps prior to the pandemic.
The authorities' 'green light' won't come as a surprise to the Premier League or any other sport as they've been part of the problem-solving exercise, however, it's one of those landmark moments that has to be reached.
A green light it is, but so much work has still to be done before top-flight football returns on June 17.
As ever with the ongoing and fluid situation surrounding this crisis, should the rate of positive tests for COVID-19 increase and the 'R' rate of infection reach one or above, then government may rescind its guidelines and prevent the return of elite live sport.
For the guidelines to work, everyone has to play their part.