Chelsea have made a stuttering start under Frank Lampard but Jorginho has been winning new admirers. If the coach finds the right system, is there still time for him to become a fan favourite? Adam Bate speaks to Jorginho's first coach and his current one to find out why it's not just Maurizio Sarri who is a fan of the Italy international's talents…
Jorginho's first half against Norwich proved the point - whatever that point happened to be. For his critics, the sight of him being dispossessed in the build-up to Norwich's first equaliser showed why he could not be trusted. For his supporters, the penetrative pass to Christian Pulisic that allowed Tammy Abraham to restore the lead showed why he is so important.
It was only February when Jorginho was being booed onto the pitch at Stamford Bridge during a Europa League game against Malmo. Saturday seemed like a turning point. Midway through that first half at Carrow Road, on a day in which Frank Lampard secured his first win as Chelsea manager, the away supporters began to chant Jorginho's name.
It had seemed that there was little he could do to shake off the idea that he was Maurizio Sarri's man but Lampard might be able to change that. Not everything has gone smoothly for the Chelsea favourite since taking over in the summer, but his faith in Jorginho appears justified and might be sparking a reappraisal of his true worth.
The midfielder could have been the hero in Istanbul. He cut the Liverpool defence apart with his through-balls in the Super Cup and scored the extra-time equaliser from the spot before netting again in the shootout. That one did not go Chelsea's way but there have been signs of Jorginho's excellent passing range in all three Premier League games this season too.
On the opening weekend against Manchester United at Old Trafford, It was his forward pass to Pedro that opened up Ross Barkley's early chance to open the scoring and it was his cross that found Emerson for the left-back's shot that hit the frame of the goal soon after.
Against Leicester, Jorginho was pivotal to Chelsea's strong start. He threaded the ball between four men to set up the chance for Pedro in the first minute. He lofted a first-time pass to Olivier Giroud which led to Mason Mount testing Kasper Schmeichel in the second minute. At Norwich, he did provide the assist for the assist. His own wait for one goes on.
That curious statistic continues to dog Jorginho - a nugget of info that seems to sum up his perceived ineffectiveness. But delve a bit deeper and it is a different story. Nobody in the Premier League played more successful through-balls than he did last season. The expected number of assists based on the chances that he created? Five. His colleagues kept missing.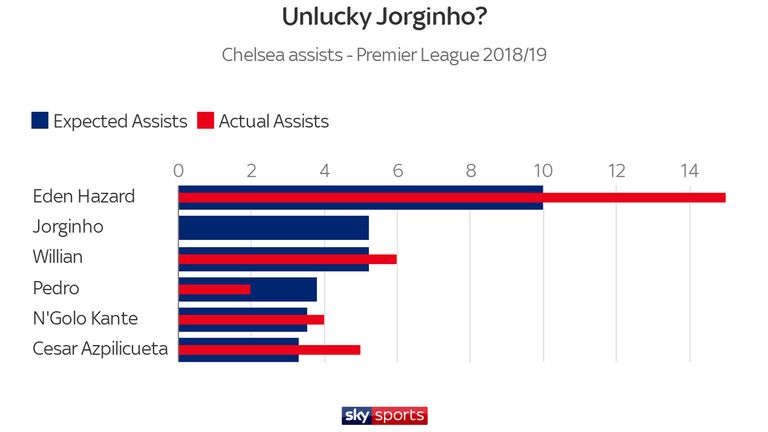 The incisive ball over the top to Gonzalo Higuain against Fulham? Skied by the striker. The first-time passes to the same player against Watford and Everton? Scuffed tamely towards goal. The threaded pass through to Barkley against Leicester? Wasted. The vision to find Eden Hazard against Watford? Shot smothered by the goalkeeper at his feet.
Speaking to Lampard at the Chelsea training ground recently, he explained why he was unconcerned by Jorginho's long wait for an assist. "I have a bit of an issue with assists because I think they can be a bit false," he told Sky Sports. "An assist can be because of a goal from your pass or a deflection from your corner. There is quite a wide spectrum."
That from the man who ranks fourth for assists in Premier League history.
"What I see in Jorginho is a quality of pass and I want to see him use his range," Lampard added. "He played some great through-balls against Liverpool and I know he can do it. He can do what's asked of him and he is eager to do it. I love his spirit, how he trains and how he plays. I keep going on about that but it's infectious and it's important."
"I watched him last year and I thought he finished the season really well but you only really know a player when you see them day in and day out. From the first day of training he showed me instantly his quality and his attitude. I am actually fortunate to have Jorginho."
Lampard watched just about every Chelsea game last season but he went into the job with an open mind and he was soon won over by what he saw. The Jorginho that he has witnessed up close has the right work ethic and is a leader on the field and off it.
There is a clip doing the rounds on social media that illustrates this well. It is from a game against PAOK Salonika last season. Jorginho makes a subtle movement to free up space for Antonio Rudiger to find Alvaro Morata, pointing the way for his team-mate's pass. He then collects it himself and fires the ball first time to Ross Barkley who feeds Willian to score.
That was the only goal of the game. Scored by Willian and assisted by Barkley, but orchestrated by Jorginho. The understanding of the game's flow was obvious, the appreciation of the space was crucial, and the leadership qualities to conduct the whole passage of play were admirable. It was all there. Everything except the assist.
For those who have long admired Jorginho, it is encouraging that yet another coach sees what others do not. Claudio Valigi was the man who gave him his professional debut at Sambonifacese in Italy's fourth tier when he took him on loan from Hellas Verona. He followed Jorginho's first year in England closely and believes there is much more to come.
"It was a learning curve for him," Valigi told Sky Sports. "The first year will have been very important and I believe he'll improve for the experience. He is a smart guy with personality and technique. He is someone who needs to be at the centre of the game, touching the ball often. He is still the ideal player for a team who wants to control possession."
If there is a concern, and how can there not be when Lampard is still waiting for his first win after three games of the season, it is whether Chelsea are controlling enough of the possession to make their current system work.
So how does Jorginho fit in?
The balance in midfield was the subject of constant debate during Sarri's reign and it is a problem that Lampard still needs to solve.
According to Opta, Chelsea allowed three fast breaks against them in that 4-0 defeat away to Manchester United - the joint-most by any team in a Premier League game this season. The only time they allowed that many under Sarri was in the 4-0 beating at Bournemouth.
Given that Jamie Carragher likened Chelsea's subsequent draw with Leicester to "a basketball game" - such was the open nature of the second half - it seems that Lampard needs to do much more to gain some control, particularly in the transitions. His team have looked vulnerable to the counter-attack and there is only so much that Jorginho can do.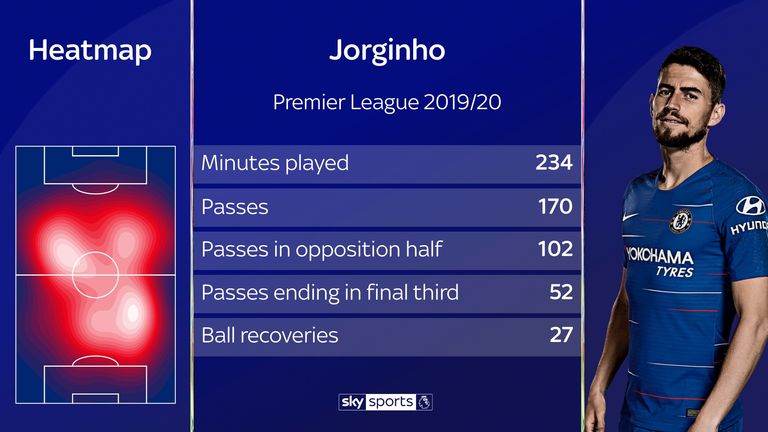 He covered more ground than any of his team-mates up to the point of his substitution in the first two Premier League games - no mean feat given N'Golo Kante played against Leicester - and was not far behind Ross Barkley at Norwich. But while that reveals his willingness to work, it is also indicative of the ground he is being expected to cover.
Jorginho and Kante, the deep-lying playmaker and the ball-winning midfielder. It should be the perfect blend, allowing Chelsea to defend and attack with confidence. The pair appear to complement each other and yet something is still missing. Will another tweak to the formation help? Perhaps the introduction of the right third man will change everything?
Until then, Jorginho will not be able to win everyone over and a proper reappraisal of his abilities will be impossible. But Lampard's faith coupled with his encouraging performances so far this season, should provide the clue that he is more problem solver than problem. Maybe Jorginho could yet have the makings of a Chelsea fan favourite, after all.
Watch more games this season for less with our Total Football Offer. Sky Sports Football and Sky Sports Premier League channels for just £18 extra a month!