Arsenal director Josh Kroenke says the club is not for sale, despite a £1.8bn bid from Daniel Ek, and insists the current owners have big ambitions of their own to bring success back to north London.
Spotify's Ek wrote to owner Stan Kroenke in May and made the bid, which remains on the table, and in September, Thierry Henry - who backs Ek's proposed takeover, along with fellow Arsenal legends Patrick Vieira and Dennis Bergkamp - told Monday Night Football there had not been a response to the offer.
"To be able to get there, you need to have someone respond on the other side," Henry said. "It hasn't happened yet, but we and he is here to stay."
Asked about that bid by Sky Sports' Geoff Shreeves in an exclusive interview ahead of Arsenal's Super Sunday clash with Watford in the Premier League, Josh Kroenke, son of Stan Kroenke, insisted no bids for the club would be accepted right now and that there are significant plans in place to take the club forward under the current ownership.
"We get bids for the club all the time, from many different parties around the world and that speaks to the strength of the Arsenal," he said. "It's a wonderful institution, Arsenal Football Club is a global brand and my only response to anything is the club is not for sale, we're just getting started.
The club is not for sale, we're just getting started. We've only really owned the club since 2018. We have a young manager, we have a young squad and we're charting our path to the future.
"We've only really owned the club since 2018. We have a young manager, we have a young squad and we're charting our path to the future.
"In the United States we have a certain model [used at other organisations run by Kroenke Sports & Entertainment] and we're implementing that here, and we have over the last three years, which is, young players, talented players with the right mentality, let them grow together while continuing to sprinkle in talent throughout the squad.
"Eventually it grows into something very special. The power of continuity behind the scenes and people working together and pulling in the same direction is an underrated aspect of pro sports.
"With the power of continuity and allowing this group to grow together, special times are ahead for this club."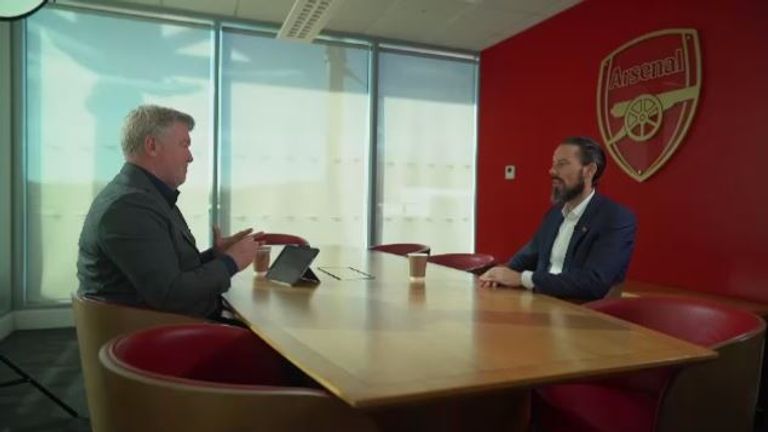 Arsenal were the top spenders during the summer transfer window but have fallen behind more wealthier rivals in recent years, with consecutive eighth-place finishes in the past two seasons a far cry from the run of 20 top-four finishes in a row under Arsene Wenger.
However, Kroenke insists Arsenal supporters should continue to expect their side to compete with the best in the Premier League and set out the club's strategy to make that a reality.
"Arsenal fans should expect the best. That's what they've expected throughout their history and that shouldn't change at all," he said.
Live Renault Super Sunday


"Do we have to rethink how we're going to go about achieving those goals? Absolutely. This summer that really played out. We weren't breaking any transfer records but the net spend was very high.
"We had many areas we needed to address on the pitch, those were addressed with players of a certain quality, of a certain age, and I think what gets left out quite a bit is, we needed to change a few mentalities around here. We needed to get mentally stronger.
"I think from the new signings to the kids that are coming through from Hale End to the senior players that are setting the tone in the dressing room on a daily basis, that mentality is to go out and compete and leave it all on the pitch.
"That is a quality that can make our fans proud, win, lose or draw.
"I think [the top sides] are in a much stronger position than we are right now, as they've had a chance, especially over the last several years, to really build their squads to a different place.
"Our strategy has changed drastically. Now the summer has settled and the players are on the pitch, we're closing the gap slowly but surely.
"They have lots of resources. We have resources as well and as long as we're using those resources smart, appropriately and intelligently, one plus one eventually will add up to three."
'Our goal is to win the Premier League'
Kroenke accepts that the revival of Arsenal into Premier League title contenders may take some time but he says he is increasingly optimistic the Gunners are now back on the right track to deliver future success, with Mikel Arteta in charge.
"I'm growing more confident by the day but there's a lot of work ahead," he said.
"Even though we're starting to show signs of progress, if you don't keep pushing forwards you'll stagnate. That's a big focus of ours right now: what are our next steps?
"Do we feel good about where we are? We feel better about where we are, we don't feel good. Our fans still deserve more.
"We need to get back into the top four, we need to start qualifying for the Champions League regularly, and with that Champions League qualification comes a different level of how you can recruit players. The best players want to play in the best league in the world, which is the Champions League, outside of the Premier League.
"When you start competing consistently for the Premier League trophy you're pretty much competing for the rest of the trophies in the sport, so our goal is to win the Premier League.
"Once we're in the conversation for the Premier League I think that's when interesting things will really start to happen elsewhere as well."
Kroenke on...
During a wide-ranging interview, Kroenke discussed a variety of topics, from Arsenal's involvement in the European Super League and the board's relationship with supporters, through to his football skills!
Arsenal's current form...
"We're currently on nine matches unbeaten but it started before that. When I was here in August, I had obviously seen the fixture list come out for the season and I knew those first three matches were going to be very difficult.
"First match away at a ground that was going to be electric for a lot of reasons - coming out of COVID, first time in the Premier League - and then to get hit with the squad being decimated by COVID itself was always going to be a tough scenario. Then to play the next two matches against Chelsea and Manchester City, the Champions League finalists, it was always going to be a difficult run.
"But the group stayed together, you could feel it behind the scenes, they were never fractured, they were never fragmented and that served us well in where we are right now. It really brought the group together and didn't fracture us in any way."
The club's summer transfer window so far paying off...
"I wouldn't say [I feel] vindicated [by the approach in the summer]. I'd say I'm more driven to keep pushing forward. Whenever you start to taste a little bit of progress or success - even though I don't think we've had any success yet, but we are starting to feel a little bit of the progress that has been made behind the scenes - that only drives you even harder.
"I feel that from Mikel around the training ground, I feel that around the first-team squad and I also feel it throughout the rest of the club. I've met with the commercial side, I've met with the football side and even over to the women's side of the equation - FA Cup finalists, they've got a huge match coming up next month against Barcelona in the Champions League - I feel as a club we're all pulling for each other and pulling in the same direction."
On the fans' protests and if there was a crisis at the club after back-to-back eighth-place finishes and five years since a top-four finish...
"I wouldn't say crisis but I would say we needed to redefine our strategy. When you qualify for the Champions League as many years in a row as we did, it becomes expected and to move out of those positions was very challenging on and off the pitch."
When asked if it was unacceptable, Kroenke added: "I believe so. As a club when you set standards, led by Arsene Wenger, those standards are very high and we have a lot of expectations to live up to from our fanbase around the globe.
"We had to step back, truly understand where we were as a club, and map out a multi-year process to get back there. There were some quick fixes that we tried along the way, involving breaking transfer records, trying to fill positions of need, but when you really examine the squad and the club from top to bottom we had to redefine our culture, redefine our strategy and we had to get younger on the pitch.
"From Hale End to some of the players we've brought in, you're starting to see some of those players come through, you're starting to see their qualities shine and we have great leadership among the squad at a senior level as well where the senior players are really embracing the younger players and that mixture is really providing some of the excitement you're seeing on the pitch today."
On the European Super League and if it was the lowest point in relations between the owners and the supporters...
"Possibly. I wouldn't disagree with you, I'll say it that way. But as someone who always tries to find the positives in things, when you're at the bottom there's only one way to go and that's back up. I don't want a 48 hour period to define us.
"We were presented with an opportunity. We asked ourselves a question, which was, 'what was worse - a Super League or a Super League without Arsenal?' We answered that question with, 'we should be included in that'. Were we wrong? Obviously.
"We listened to our fans, we made a quick pivot, removed ourselves from the situation, we apologised and now we move forward.
"Some of the dialogue I've had with some of the supporter groups has been as clear as crystal and I couldn't be more excited to be communicating with them on the level that I am. I understand who they are, and now they're understanding who I am and the more we understand each other, it's exciting because the only thing we want is for Arsenal Football Club to be great."
On whether the club will ever make a big decision - like entering the European Super League - without consulting the fans again...
"We had our first fan advisory board [this week] where we had elected representatives from several supporter groups around the table and I think we'd be naïve and stupid to do that again without consulting our fans. We all referenced things [during that meeting with fans] of how the situation evolved, but I don't want a 48-hour period to define us and I really look forward to engaging with those supporters both now and in the future so they understand who we are and what we're trying to accomplish so we can all accomplish it together."
On being a football fan and whether he has played the game...
"I did. I was a right winger. I was good enough to be the second leading scorer but only because our left winger was our best player and being tall, I was usually on the back post heading in most of his crosses. So it worked out fairly well for me."
And what player was he like?
"Who did I model my game on? I wouldn't know where to compare. I was a basketball player so focusing on basketball when I was 15, 16 years old became what I wanted to do when I started to grow but I'd have to really think about that. I was tall and skinny… I've never been asked that question before! As I continued to grow and mature, I probably would have turned into more of an aggressive central defender, knowing how my personality was, as opposed to a winger. I'd have been more a Per Mertesacker than up front as any sort of Thierry Henry!"
On the best moment he's had with Arsenal...
"The FA Cups come to the top of my mind. Even though I wasn't physically here, it was very rewarding to see Mikel win the FA Cup during the COVID times. I wasn't physically able to be here because of the COVID protocols at the time, but any kind of silverware you win along the way, whether it be under Arsene, a Community Shield or FA Cup under Mikel...
"Spurs wins, they come to the top of the plate. Any time you see the Emirates boisterous, rocking and fans chanting the way they can, which is why the last several matches have been so wonderful for me to see because you can really see the supporters getting behind the current group of players in a way that I'm not sure they have been for a few years."