Mauricio Pochettino's describes Tottenham's Wembley spell as a 'gift'
Watch in-game clips of Leicester vs Tottenham on the Sky Sports app
By Michael Hincks
Last Updated: 07/12/18 2:50pm
Mauricio Pochettino has described playing at Wembley as a "gift" following Tottenham's extended stay at the national stadium.
After a crowd of just 33,012 watched Spurs' win over Southampton, defender Danny Rose said it was no longer an "honour" to play at Wembley, with the team "itching" to move into their new stadium.
But with no fixed date set for the opening of Spurs' stadium, Pochettino launched a passionate defence of their temporary home, saying he feels "lucky" every time they get to play at Wembley.
He said: "Everyone who is there is entitled to give their opinion. If you ask me, I am so, so happy to play at Wembley. When I was born in Argentina and heard about England for the first time, it was with all the problems with the Falklands - it was very sad news when I heard it for the first time when I was in Argentina in my hometown.
"Then when I arrived in Europe and when I played the World Cup against England (in 1998), and then after when I arrived at Southampton six years ago, I changed my mind completely in the way I see this country.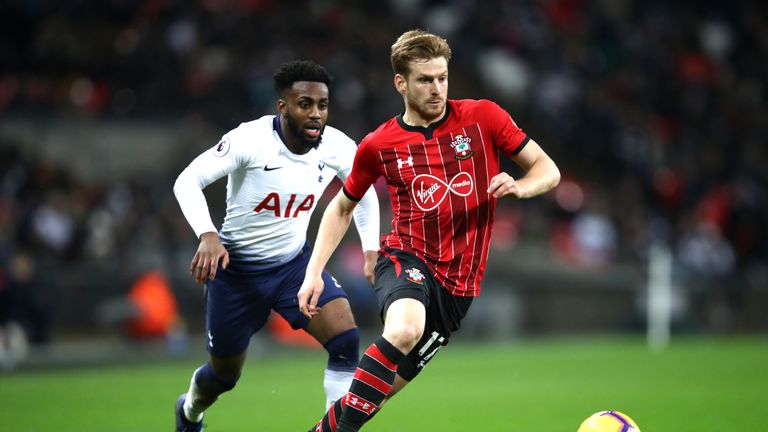 "For me it's an honour to be here and a pleasure to be here. I have discovered amazing people and an amazing country - very close to us.
"We are always comparing Argentina with Spain and Italy, but we have more [similarities] with English people than maybe Spain or Italy.
"When you, like we, love football, always you hear about Wembley. It was always a dream to play at Wembley. I played with the national team in 2000 at the old Wembley. It was a dream come true.
"Now every week or two weeks we have the possibility to play at Wembley. For me it's a gift.
"When I take the north circular, when I look and see the [arch], I say thank you because every game I play at Wembley is a gift.
"We always say, one game more, how lucky we are. For me it's the best place in the world to play football, and of course after that will be shared with our new stadium as the best place to play.
"Of course, the disappointment from our fans, I understand. But for me, I take it as a positive to play there and a gift that I want to enjoy every time I'm there."