Southampton's interim manager expects a permanent replacement for Mark Hughes to be installed before Saturday's away game at Cardiff.
First-team coach Kelvin Davis will take temporary charge for Saints' trip to Tottenham on Wednesday after Hughes was sacked on Monday.
Former RB Leipzig boss Ralph Hasenhuttl is Southampton's number one choice, according to Sky sources, and talks are planned with the 51-year-old Austrian later this week.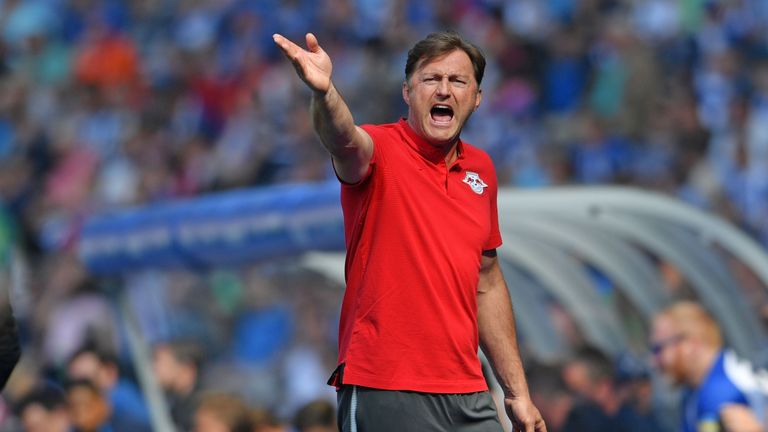 Davis expects the Southampton board to move quickly on securing a new permanent manager.
Asked if him being given control only up to Wednesday's Tottenham trip suggests a permanent appointment will happen before the weekend, Davis replied: "To me it does indicate that.
"But whether that happens or not will be up to the guys upstairs. I'm taking the team up until Wednesday and we'll see after that."
Hughes was sacked on Monday after just eight months at the St Mary's helm, with Southampton boasting just one win in 14 Premier League matches this term and deep in the early-campaign relegation mire.
Saints will have had four permanent managers in less than 18 months once Hughes' long-term replacement is in their post.
Former Saints goalkeeper Davis revealed his pride at taking temporary charge of the club but insisted he will not look beyond Wednesday's clash at Wembley against Spurs.
"The opportunity I've got now is to take the lads for a couple of days' training and to prepare for the Tottenham game," said Davis.
"After that is after that. I don't think it would be wise to even consider anything after that.
"My aspirations are to continue to support the club as best I can and if one day an opportunity arises to become a manager I would love that. But for now that's a million miles away from my mind."