Manchester United's move for Jadon Sancho has stalled. To find out what is really going on behind the scenes, you have to look at the deal from three different points of view - Manchester United, Borussia Dortmund and the player and his representatives.
The view from... Manchester United
Manchester United are not giving up on trying to sign Sancho despite the fact that they missed the Monday deadline Borussia Dortmund set for the deal to be done.
That was an artificial deadline set by Dortmund. In an ideal world, it would have suited Dortmund to have Sancho's future sorted out by the time they flew out for their pre-season training camp in Switzerland.
Sancho is still United's No 1 target this summer and as far as they are concerned the window is open for almost another two months.
There is no need for United to press the panic button. As far as they are aware they are the only club who are trying to sign Sancho and he wants to move to Old Trafford.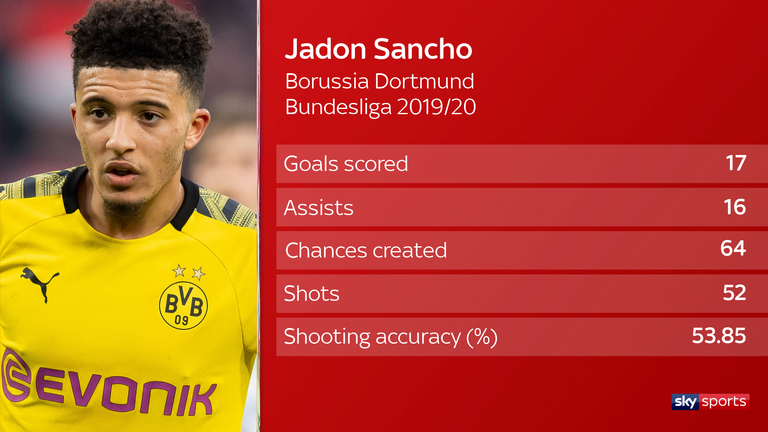 They are frustrated at the way things have turned out so far but it is still early days in the window and United have time on their side.
United are still in the Europa League and they are well within their rights to wait until that competition is over before they put in an official offer for Sancho.
Although United have been in contact with the two agents Dortmund want them to deal with, they have made little progress so far.
Talks have centred around the fee, the payment structure, personal terms and agent fees. There are mixed messages as far as personal terms and wages are concerned.
United insist they will not pay over the odds even though Sancho is not believed to be asking for higher wages than other players with a similar profile.
United have let it be known that they will not pay Dortmund's €120m (£108m) asking price but they are going to have to get close to it if they really want Sancho.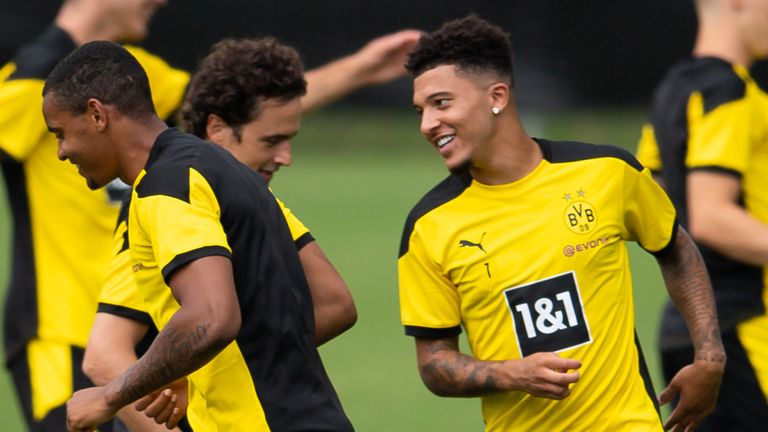 According to Bild in Germany, United raised the possibility of signing Sancho for €60m in informal talks with agents. That kind of offer would not even be worth presenting to Dortmund.
The coronavirus pandemic has affected all clubs and budgets are tight, but a 50-per-cent discount on one of the best young players in the world would be laughed at by the men who run Dortmund.
Nothing that has happened this week has changed anything as far as United are concerned. They know Dortmund are willing to sell Sancho. All United have to do is show them the money.
And one final point: if Dortmund are not willing to sell Sancho, why have they engaged the services of the agent they used to sell Pierre-Emerick Aubameyang to Arsenal and Ousmane Dembele to Barcelona?
The view from... Borussia Dortmund
It is significant that Michael Zorc came out and said what he did, when he did.
He is the Dortmund sporting director and they wanted to take control of the situation. When he walked over to the reporters at the side of the pitch on Monday he knew exactly what he was doing.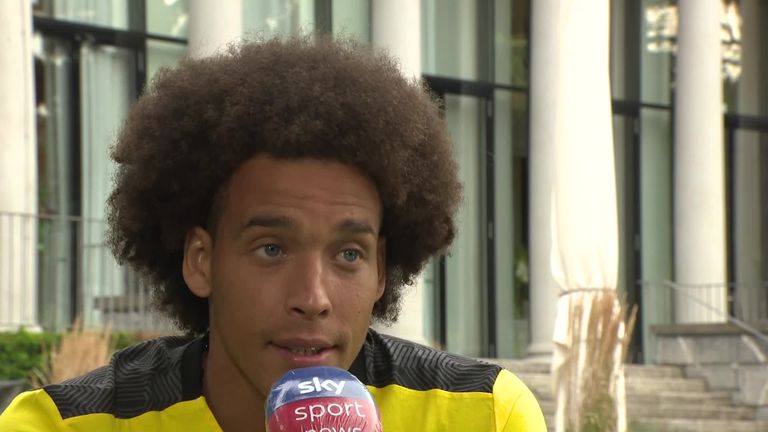 He made it clear that Sancho would be staying at Dortmund and the decision was final. The big question is should we take what he said at face value or is it simply a negotiating tactic?
As far as our colleagues at Sky Germany are concerned, Sancho is now more likely to stay at Dortmund. It would be difficult for Dortmund to back down now after what they have said in public.
And it is not just Zorc who is saying that Sancho is staying. His team-mates Erling Haaland and Emre Can have also been telling the media how delighted they are that Sancho is staying and how they are looking forward to playing with him again next season.
So should we really believe Dortmund when they say United have missed the deadline and Sancho is staying? Dortmund's business model is based on developing players and selling them for big transfer fees. They have bought Haaland and Jude Bellingham this year and their finances have been hit by the pandemic, so they would find it difficult to turn down a big offer for Sancho.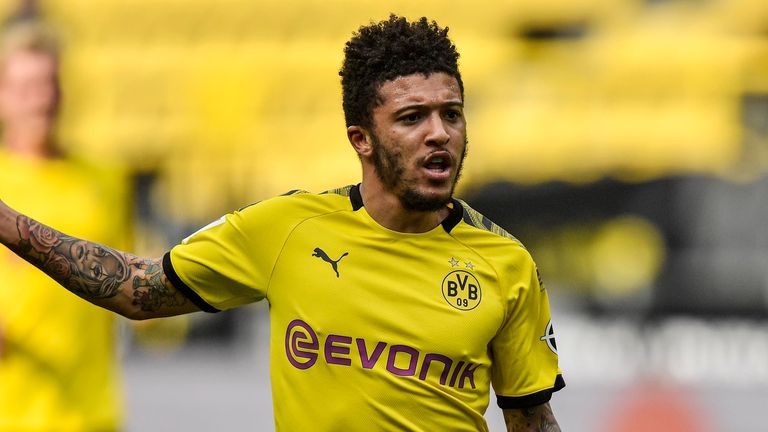 Having said that, Zorc revealed on Monday that they had extended Sancho's contract last summer. He is now contracted to Dortmund until the summer of 2023 and that puts Dortmund in a strong position.
As far as they are concerned, they can hold onto Sancho for another season and wait until next summer to sell him. By then, club finances may have improved and the likes of Real Madrid and Barcelona would be in a better position to make moves for Sancho and drive his price up.
Dortmund have shown time and time again they are more than capable of looking after themselves and protecting their interests in the transfer market.
After all, this is a club who stood their ground over Ousmane Dembele and only let him join Barcelona when they had agreed to pay £135m. That was a short time after Zorc had said Dembele wold not be sold. Zorc also said Pierre-Emerick Aubameyang would not be sold before he moved to Arsenal.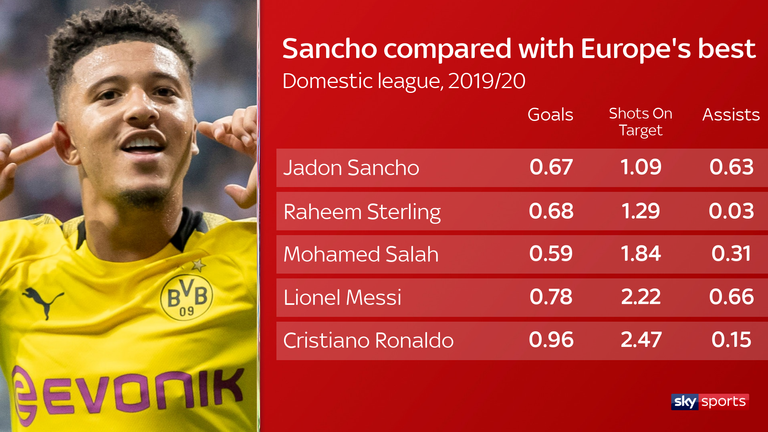 The message from Dortmund is coming through loud and clear - if you want our best players, you have to pay what we want. As each day goes by, it becomes increasingly clear that there is no way Dortmund will let Sancho leave for less than £100m this summer. And in public, they will still insist that he is not for sale.
The former Premier League striker Jan Aage Fjortoft, who is now a broadcaster and German football expert, summed up the situation perfectly: "In Germany they say Zorc is strong; in England they say he is playing poker."
The view from... Jadon Sancho
It is no secret that Sancho would like to come back to the Premier League. He feels he has unfinished business in England because he did not get the chance to prove himself at Manchester City.
Sancho has friends at United and now is the perfect time for him to come home. He wanted to move to a club who were in the Champions League and United finishing third last month was another box ticked for Sancho.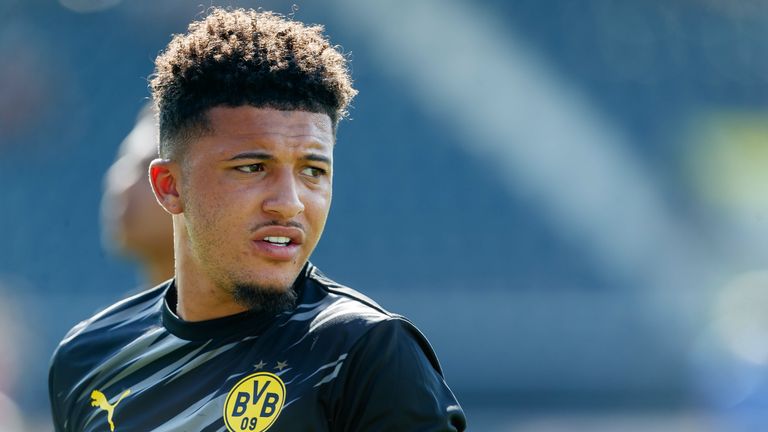 It would suit United if Sancho started agitating for a move but there is no sign that is going to happen. If Sancho came out and said he wanted to leave or if he put in a transfer request United would be in a stronger position. There is no indication that is something Sancho is planning on doing. After all, he can hardly be expected to agitate for a move when United have not made an offer for him.
Without an offer, there is no chance of Sancho rocking the boat or in time-honoured fashion, developing a mysterious 'back injury' which would prevent him from training or playing in pre-season friendlies for his current employers.
Sancho will keep his head down and keep working hard. He wants to move to United but another season with Dortmund and another season in the Champions League is not the end of the world.
He knows he is only 20 and all the biggest clubs in the world are watching him closely. If a United move does not materialise this summer, then Real Madrid, Barcelona, Paris Saint-Germain and Liverpool would all come into play next summer.
And that will be a summer in which Sancho will be showing the world just how good he is in the Euros with England.
The summer transfer window will run for 10 weeks from July 27 and close at 11pm on October 5.
A domestic-only window for trades between the Premier League and EFL then runs from October 5 and closes on Friday October 16 at 5pm. Follow all the news and analysis on Sky Sports News and across Sky Sports' digital platforms, including with our dedicated Transfer Centre blog.
Who has your team signed? Who has been shipped out?
Check here for a comprehensive list of all the Premier League ins and outs from the 2020 summer transfer window, which opened on July 27 and closes on October 5.