Ole Gunnar Solskjaer said Manchester United's first-half performance after conceding against Manchester City was the "worst" they have played under him.
It was a sensational strike from Bernardo Silva that opened things up for City in their 3-1 Carabao Cup semi-final, first-leg win, after which United looked devoid of ideas.
Bernardo went on to assist Riyad Mahrez for the second City goal before an unfortunate Andreas Pereria own goal saw the visitors storm into a 3-0 first-half lead. Marcus Rashford pulled one back in an improved second-half performance from United ahead of the second leg in three weeks' time, live on Sky Sports.
Solskjaer said: "From their goal until half-time, that is the worst that we have played. From the first goal to half-time we just could not cope with that setback. We were running in between. The pressure didn't work and we let them play. Our heads dropped. We just made decisions that we should not do.
"We know they can play that way, we've seen them do that a few times. I went to see them last year against Chelsea, they played that way and won 5-0 at the Etihad so that's not a surprise, but they're good at what they're doing.
"That needed sorting at half-time... Someone needed to take the responsibility and we did that in the second half.
"When you come in at half-time with that result then pride is one word that you speak about. Make sure you win the second half and you are in the tie. Of course, it's a difficult task that we have got in front of us but that second half at least gives us something to hang on to. After that second half, we have got something that we believe in.
"Even though it is a steep mountain to climb, we can still climb it. We just need to look forward. We've shown before that we've been down from a home tie and turned it around, last year against PSG for example, so we've just got to believe when we go to the Etihad and know that we can put a performance on."
'Defeat shows Ole needs help with his squad'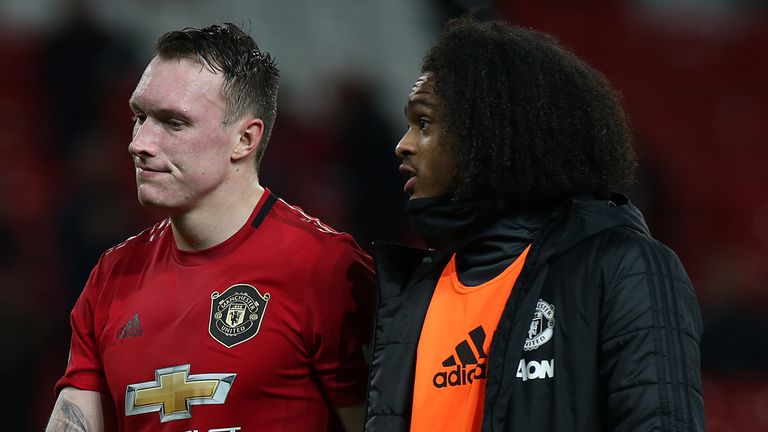 Solskjaer must use United's Carabao Cup semi-final first leg defeat as evidence for why the club must do business this month, according to former defender John O'Shea.
O'Shea told The Debate: "I feel the selection was forced on him a little bit, with a couple of key injuries. But I think it might give Ole the chance of going to the board to say, 'I need a bit more help with this squad'.
"Only Liverpool will be fully happy, so United will be competing with the likes of Chelsea, Arsenal, Manchester City for the players, and it's notoriously more difficult to do business in January."
Stuart Pearce added: "The owners have given Ole money to go and buy players, and those he's bought have actually been successful. Harry Maguire and Aaron Wan-Bissaka have both been a success, so they will feel they can trust him with money - which is a real plus for a manager.
"They've got some of the best young talent in the country, but what they need is maybe three or four players in the ranks that can deliver a level of consistency. They need to go into the transfer market, but he might need to get a couple out as well, just to change the psyche of the dressing room."
Pep: Semi-final tie not over
Manchester City are aiming for a third successive Carabao Cup title win and have put themselves in pole position, but, despite the positive result, boss Pep Guardiola is adamant that the semi-final is still in the balance
He said: "In the first minutes, it was tight, they had one or two counter-attacks and the second shot. It was an outstanding goal from Bernardo and since then we played really good with a lot of passes arriving from behind.
"In the second half, they changed the shape from a diamond to a 4-4-2 and we struggled a little bit, but it's a good result.
"No [I wasn't frustrated in the second half] because they played good and we could not control quite well, especially Mason Greenwood between the lines, we struggled a little bit with that, but, in general, it was an incredible performance. We are playing at Old Trafford against our rival in a semi-final and it was a fantastic result for us.
"It's not over though, it's Man United and we see how they can come back... but hopefully with our fans, we can make a good game and reach the final again."
'A 3-1 home defeat to rivals Manchester City might not sound so emphatic but the reality was rather different. Pep Guardiola had won on his three previous visits to Old Trafford in the Premier League but never like this. United conceded three goals in the first half for the first time here in 22 years. The gulf between the two teams was obvious to everyone.'