Steve Bruce admits Newcastle's confidence is low after their poor run of form but has urged his players to ignore the noise of outside criticism and fan protests.
Saturday's 2-0 defeat at Aston Villa extended the Magpies' winless run to ten matches in all competitions, piling more pressure on Bruce's position as manager.
In January, Newcastle earned themselves the ignominious role of becoming the first side beaten by Sheffield United in the Premier League since July 11 - after which Bruce said he would "never ever walk away" from a challenge.
In his pre-match news conference ahead of Tuesday's home game against Leeds, the 60-year-old reiterated that point and said his long career comes from an "ability to get stuck in".
"There's no disputing that we're on a difficult run and the quicker you get a result, the better," Bruce said. "All you can do is prepare as best you can and try to ignore the noise.
"We need to go and get a result. I've seen little bits [of promise] but confidence is a little bit low.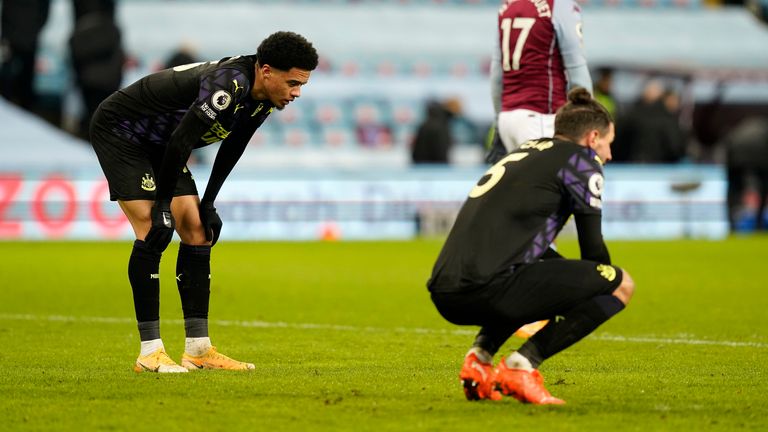 "I've been in this situation before and you draw on your experience. There's no doubt it's difficult, but I'm still convinced.
"When you manage in the Premier League, the word pressure is often used. Whenever you're on a bad run you come under the pump very quickly.
"You've just got to handle it with a bit of respect and dignity and go to work.
"The longevity I have, I believe, is because I have the ability to get stuck in and I'll never shy away from a challenge."
Following last weekend's defeat at Villa Park, the 1,000-member strong Newcastle fan group 'Toon for Change' stated they were "actively campaigning" for Bruce to be sacked, and protests have taken place outside St James' Park.
"You're disappointed when you hear things like that but all I can do is keep trying to be focused on the match ahead," Bruce said.
"I can understand their disappointment. All I can do is try to get the team in as good a shape as I possibly can and win tomorrow night."
Bruce retains support of Newcastle owner Ashley
Sky Sports' Keith Downie:
"Despite increasing calls for Steve Bruce to be sacked reaching what seems like a crescendo, the Newcastle boss retains the support of club owner Mike Ashley.
"The under-fire manager has overseen ten matches without a win, with his side only having scored once in the last eight matches.
"It's the failure to create chances that must be the most worrying thing of all for the Newcastle fans, with some of them protesting against Bruce outside St James' Park on Saturday night.
"Many of them felt that 60-year-old Bruce's face didn't fit from the off, and now they're overly concerned that the barren run could lead to a third relegation under the stewardship of Ashley.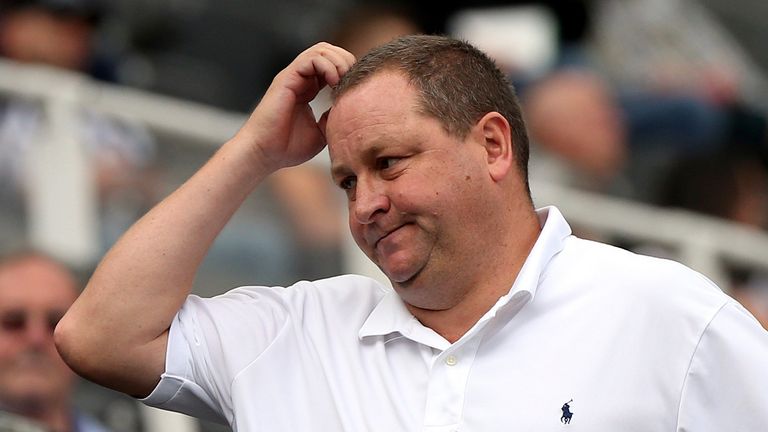 "The supporters' banners which were unfurled late on a dark and dreary night in Newcastle following an abject defeat away to Aston Villa urged Ashley to act now, with many of them concerned relegation could spell disaster for the Saudi-backed takeover they hope and dream of.
"However, Ashley is set to ignore them for now, with no appetite to sack a manager he has a solid working relationship with, and one the owner feels works neatly within the unusual set-up at St James' Park.
"Things could be reassessed if The Magpies drop into the bottom three, but with a seven-point advantage over third-bottom Fulham, Bruce will be given more time to turn things around.
"On Monday he insisted he's still the man to do that, but he knows only too well he has to start proving it on the pitch - and quickly.
"It feels like the vast majority of the supporters believe that won't happen, and the Newcastle boss must be one of the few in the game privately thankful for empty stadiums right now."
Carra: Boring Newcastle are becoming a nothing club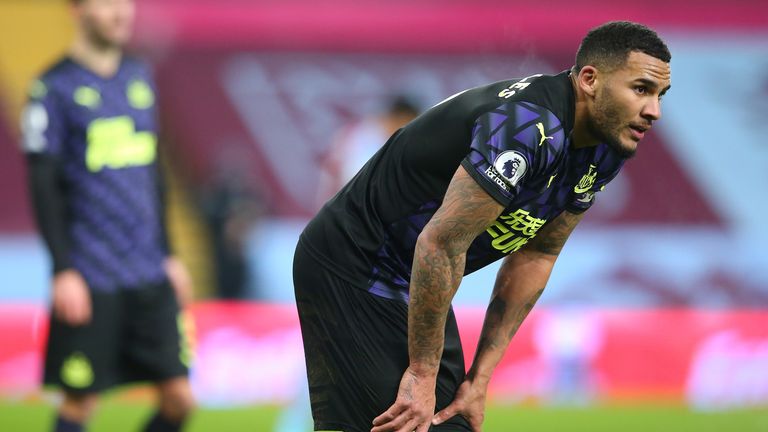 Jamie Carragher fears Newcastle risk becoming "a nothing club" under Mike Ashley's ownership and feels Bruce's side are "sleep-walking" into another relegation battle.
Speaking after Saturday's 2-0 loss to Aston Villa, Sky Sports pundit Carragher said he is worried about their prospects and understands the disillusionment among fans.
"I mentioned how impressed I have been with Aston Villa, not just tonight but all season," said Carragher.
"It's the complete opposite with Newcastle. It feels like a club that's just nothing at this moment, just sleep-walking into another relegation dog fight.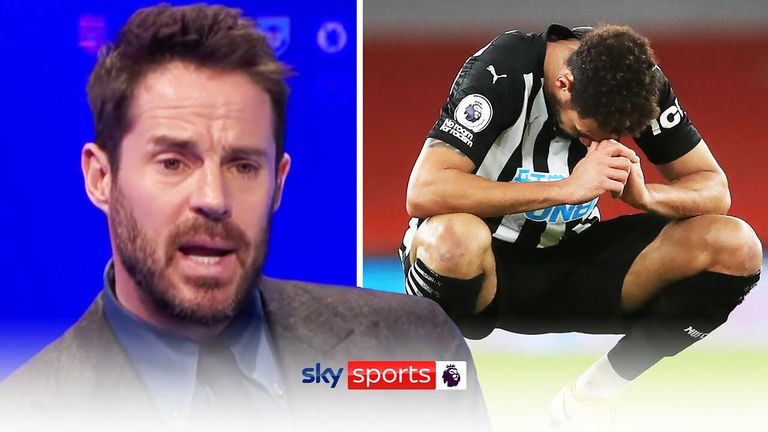 "Twice they have gone down under Mike Ashley. At this moment they have a bit of a gap between them and Fulham but I would say Fulham and West Brom are in much better form than Newcastle.
"So poor yet again. You never feel like they are going to score a goal. You never feel like they are going to keep a clean sheet.
"There's no doubt the supporters don't like the team, they don't like the owner, they don't like the manager.
"Steve Bruce is getting criticism at the moment. He's the manager and the buck stops with him, but until Newcastle get new ownership, we're going to be seeing the same thing.
"A team who are just drifting, doing nothing, becoming a nothing club and that's what Newcastle have never been.
"There's always been some sort of spark, some sort of interest, some sort of enthusiasm when you watch them play.
"Now it's just boring."